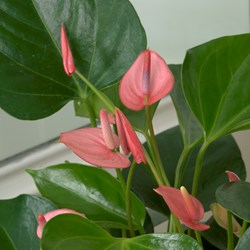 One of the best parts about giving a live plant on Valentine's Day is that it will continue to grow.
Miami, Fl (PRWEB) February 14, 2014
Flowering plants provide a breath of fresh air on Valentine's Day, which happens to be in the dead of winter. While a dozen red roses is the standard floral gift to say "I Love You," there are other options that keep the show going on longer.
"Cut flowers are certainly beautiful, but they only last so long," says Costa Farms' garden expert Justin Hancock. "When you give a live houseplant to someone special on Valentine's Day, you get to pick just the right flower for their style. It's far more unique and personalized," Hancock continues.
Costa Farms has handpicked five romantic houseplants to gift this Valentine's Day. There's a plant for every style, favorite color and personality.
"One of the best parts about giving a live plant on Valentine's Day is that it will continue to grow," Hancock adds.
From Pantone's color of the year to bright red, find a Valentine's Day flower that will bloom for months and months.
Orchids
Orchids are an elegant, sophisticated selection for showing how much you care. MothOrchid blooms last a long time – more than three months or more, in fact, and appear in a wide range of candy-like colors, including pinks and purples, whites, gold, and more. Orchids are remarkably easy to care for, too: They thrive in the same conditions as most other houseplants.
Keep your moth orchid in a low- or medium-light spot (out of too much hot sun) and water when the potting mix dries out.
Red Aglaonema
Red Aglaonema presents an even longer-lasting choice because its bold color comes from its leaves. This showy plant offers leaves that are streaked and striped with seasonal shades of bright red and pink. Bonus: Red aglaonema is one of the easiest houseplants to grow -- your loved one can enjoy it for years!
Grow red aglaonema anywhere from low light to bright. It prefers a humid environment, but doesn't mind dry air, either. Water when the top inch or two of the potting mix dries.
Anthurium
Show your love with a plant that has heart-shaped leaves and flowers! That would be anthurium, which blooms in shades of red and pink, as well as white, purple, orange, and other festive tones. Anthurium is a long-lived houseplant; keep it happy and it will bloom for years. The flowers hold up, too -- with enough warmth and humidity, they last for months. What's better, anthuriums bloom on and off all year.
Grow anthurium in a bright spot indoors with good humidity levels. Water when the top inch or so of the potting mix dries. Fertilizing with a general-purpose houseplant fertilizer a few times a year can help you get more flowers.
Bromeliads
Bold, exotic bromeliads are showstoppers. These dramatic pineapple relatives give off a tropical feel – so they're perfect for this time of year. Everyone loves their stalks of red, pink, purple, orange, yellow, or white flowers. Some also offer attractively variegated leaves.
Grow bromeliads in a bright, humid spot. Low humidity can cause leaf tips to turn brown. Water when the top inch of the potting mix dries to the touch.
Desert Gems
Desert Gems is Costa Farms' collection of bright, colorful cacti. You can get Desert Gems in ruby red, amethyst purple, topaz yellow, emerald green, or garnet orange – so there's a look for everyone!
Grow Desert Gems in a bright spot. Water once every two or three weeks; enough to keep the plants from shriveling.
About Costa Farms
Costa Farms is the largest producer of indoor houseplants in the world. Founded in 1961 by Jose Costa, Costa Farms is a third-generation, family-owned business that globally stretches over 3,800 acres and employs 2,800 people. Along with thriving indoor, bedding and perennial plant divisions, Costa Farms operations are located in Florida, North Carolina and South Carolina, and abroad in the Dominican Republic, and Far East. Learn more about Costa Farms at http://www.costafarms.com.