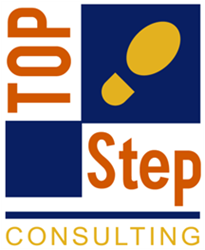 SuiteWorld provides a venue for several intense days where we can come together face to face with our partners and customers to share experiences and deepen our business relationships...
Washington DC (PRWEB) February 19, 2014
TOP Step Consulting announced they will be a Gold Sponsor at the NetSuite SuiteWorld 2014 conference. The conference will be held at San Jose May 12-15 bringing together an anticipated 6000 attendees.
TOP Step Consulting will showcase the benefits of NetSuite OpenAir for project based organizations offering one to one sessions where customers can get advice on how they can advance their usage of NetSuite OpenAir and integrate the technology and best practices into their day to day workflow. "During the conference last year we had great success in helping other OpenAir users connect with each other so they could share best practices. We have plans to do this again in a fun and interesting way" says Jodi Cicci, President and CEO of TOP Step Consulting. "One of our missions at TOP Step is to educate and help our customers use the technology to gain the greatest benefits for their organization".
Held annually, SuiteWorld is NetSuite's largest user conference designed specifically for NetSuite customers, partners and developers. SuiteWorld brings together the full strength of the NetSuite Nation ecosystem to learn and explore, network face-to-face and shape the next evolution of cloud computing services. Event features include thought-provoking keynotes from C-level NetSuite executives, networking with more than 6,000 anticipated attendees, 200+ breakout sessions and more than 100 value-added solutions in the SuiteWorld Expo.
"We are proud to be a gold sponsor again this year. SuiteWorld provides a exciting venue for NetSuite OpenAir users. We plan to have a few intense days of collaborating with our partners and customers to share experiences and deepen our business relationships, which is a win for all of us" says Cicci.
For registration and additional details, please visit http://www.netsuitesuiteworld.com/.
About TOP Step Consulting
TOP Step Consulting improves business efficiency and productivity for Professional Services business operations. TOP Step Consulting is a leading expert in professional services automation with extensive experience in PS business operations specializing in complex global operations. They provide advisory, implementation and outsourced administration services to over 200 world-class professional services organizations across the globe. Their goal is to streamline operations, helping their customers achieve their profitability goals so they can focus on growing their business. To learn more please visit topstepconsulting.com