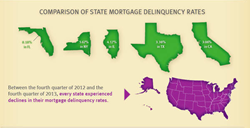 Every state in the U.S. saw their delinquency rates lower in the 4th quarter, and all but two states saw double digit decreases.
(PRWEB) February 13, 2014
TransUnion reported great news today for the housing industry, as the mortgage delinquency rate has continued to drop and is now at 3.85 percent as of Q4 of 2013. This is the first time mortgage delinquency has dropped below 4 percent since 2008. The rate declined by 5.9 percent from the third quarter, when it was at 4.09 percent delinquency. This is now the 8th consecutive quarter that the rate has declined on a year-over-year basis.
CF Funding is happy to share another positive factor that measures the state of the housing industry. This information comes from TransUnion's proprietary Industry Insights Report, which analyzes data and trends every quarter in regards to consumer lending. According to their press release, posted on February 12th, "The report is based on anonymized credit data from virtually every credit-active consumer in the United States."
Every state in the U.S. saw their delinquency rates lower in the 4th quarter, and all but two states saw double digit decreases. The only two states without double digit decreases were New Jersey and New York. New Jersey has one of the highest delinquency rates, at 8.86 percent, but Florida is currently the highest with a rate of 8.18 percent. Unfortunately, delinquency rates are overall still higher than prior to the housing bubble, but CF Funding hopes to see our rates get back to normal levels as the economy improves.
The lowest delinquency rates are 1.16 percent in North Dakota, and 1.64 percent in South Dakota. The largest year-over-year declines were seen in Arizona, California, and Nevada. The smallest year-over-year declines were seen in New York, New Jersey, and West Virginia. The state of Illinois currently has a delinquency rate of 4.17 percent.
The number of account originations has declined from Q4 2012 to Q4 2013, with a recorded 52.84 million mortgage accounts in 2013 versus 53.85 million in 2012. Steve Chaouki, head of financial services for TransUnion, says this decline is "primarily related to recent spikes in interest rates, particularly in the refinance market. Additionally, continuing tight lending standards remain a factor in some sectors of the market." The credit reporting company expects the downward trend of consumer delinquency to continue in the next quarter.
Although rates may not be as great as they were in Q3 of 2013, CF Funding is still offering low interest rates and great deals on refinances that can save you money. If you want to hear more about these rates give CF Funding a call at 630-328-8900. To keep up with its news feed, follow CF Funding on Facebook and Twitter.