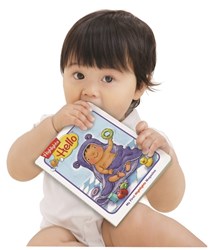 "Hello is special because it's so easy for toddlers to turn the pages, giving them the opportunity to actively share in the reading experience."
Columbus, Ohio (PRWEB) February 13, 2014
Highlights for Children, the leading family media brand and publisher of the best-read children's magazines in North America, was awarded the prestigious 2014 Parents' Choice Award for its newest magazine, "Highlights Hello." The award recognizes "Hello" as a top magazine for children, placing it among the very best that entertain and teach with flair, stimulate imagination and inspire creativity.
"Hello" became a fast favorite among families when it debuted last fall as Highlights' magazine for babies, toddlers and their caregivers. Each 16-page issue contains vivid illustrations, simple lyrical poems, songs and a version of Hidden Pictures® puzzles just right for our youngest readers. Specially designed for little fingers (and mouths), the magazine is printed with non-toxic ink containing soy and vegetable oils on durable, washable paper with rounded corners and soft, stitched binding.
"Research shows that reading to young children supports early language and literacy development and fosters a love of reading," says Kathleen Hayes, Editor of Highlights Hello. "Hello is special because it's so easy for toddlers to turn the pages, giving them the opportunity to actively share in the reading experience. We're honored to have Hello recognized by Parents' Choice as a quality choice in children's media."
Parents' Choice Foundation has been reviewing and recommending quality children's media for more than 33 years. The awards are determined by a panel of educators, scientists, artists, librarians, parents, and kids. Fewer than 20% of the products submitted to the Parents' Choice Awards program receive any level of commendation.
To read the Parents' Choice review of Highlights Hello, click here or visit http://bit.ly/1g3tCER.
About Highlights:
Devoted to "Fun with a Purpose," family media brand Highlights for Children, Inc. (http://www.highlights.com/) has helped children become their best selves for generations. In addition to the flagship magazine, Highlights' other offerings include a preschool magazine (High Five), an infant magazine (Hello), a children's book company (Boyds Mills Press), puzzle book clubs and a variety of digital products.