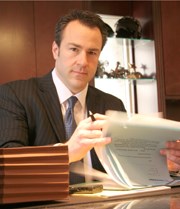 Car seats aren't designed to be worn with bulky winter coats. Strap your child into their seat wearing a warm layer like a fleece, and lay their coat or a blanket over top of the seat once they're safely strapped in.
Southfield, MI (PRWEB) February 13, 2014
Auto accident attorney Jason Waechter wants to remind parents of young children that bulky winter coats and car seats don't mix. "I want to help parents keep their kids safe," says Waechter. "Car seats aren't designed to be worn with bulky winter coats. It's important to use the car seat and restraints as directed to protect kids in the car."
This has been a long, cold winter in Michigan, and keeping little kids warm and toasty whenever they go out is an obvious priority for parents. However, children wearing bulky winter clothing may not be properly protected by their car seat's restraint system, according to the National Highway Traffic Safety Administration's (NHTSA's) safercar.gov, a website dedicated to providing parents with car and road safety tips. The site advises parents that "[bulky] clothing or heavy coats can prevent a snug harness fit. Always buckle the child in the seat first, and then place coats or blankets over the harness."
The problem with putting your child into a car seat while wearing a puffy winter coat is that it leaves a gap between the child and the safety restraint. Waechter explains, "most winter coats are made up of thin layers of material filled with feathers or fiber. So when air is trapped in the fill, it gets warm and helps keep your child warm. But in a crash, when the safety restraint pushes against the coat, it just presses all the air out and your child can then move around in the safety restraint, putting them at risk for serious injuries," he says.
To see how much space can be left between your child and their safety restraint, try this experiment: Buckle your child into their seat wearing a bulky winter coat, tightening the straps accordingly. Then, without adjusting the straps, unbuckle your child, remove the coat, and put your child back into the seat without it. Buckle the restraints. Is there any slack? That's how much your child could move around within their seat in the event of a crash.
In a ClickOnDetroit.com story from February 10, Erica Surman, a certified a certified child passenger safety technician at Beaumont Children's Hospital, explained it this way: "Just like when you push down on a down comforter and you can flatten it… In a bad accident, all that momentum will compress (the coat) into just something very thin." Dr. Kelly Lavasseur, Beamont pediatric emergency medicine physician, agreed, and added, "Even one inch of play in their straps could lead to significant damage, especially in the cervical spine area. That means neck injury, severe neck injury, and can lead to paralysis of arms or legs."
How can parents keep their kids warm and safe when riding in the car this winter? "As we see with NHTSA's site, the recommendation is to buckle the child into the car seat wearing a thin but warm layer, like a fleece," says Waechter. "You get the harness straps tightened properly, and then lay the coat or a blanket over the seat. NHTSA recommends even turning the coat backwards and fitting the sleeves over your child's arms after they're buckled into the seat. And of course, putting them in a winter hat, mitts, and boots won't hurt," he adds. Even for short trips, it's important to make sure your child is safely restrained while in the car. Waechter, who provides a wealth of safety and accident prevention information on his website, hopes everyone can get through the rest of the winter safely while staying warm. "Crashes can happen anywhere, and with the winter we're having here in Michigan, you never know what the roads are going to be like. Keep them safe and keep them warm; it's only a few more months until spring!"
###
Jason Waechter has spent two decades cementing his reputation for results. Over the years, he has specialized his practice to auto, truck, and motorcycle accidents. Jason has fought tirelessly for accident injury victims and contributed significantly to safety education and accident prevention. He has entrenched himself as one of the nation's premier lawyers, recently being named to the Michigan Super Lawyers and Michigan's Best Lawyers. If you or a loved one has been injured in an accident, call 1-800-708-5433 to speak with a lawyer who can help.