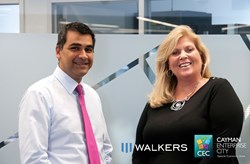 The Tax Information Exchange Agreement between the Cayman Islands and Canada coupled with the Cayman Enterprise City means a new generation of Canadian businesses can reap benefits which were, until very recently, only affordable to large enterprises
Grand Cayman, Cayman Islands (PRWEB) February 14, 2014
Cayman Enterprise City ("CEC"), the Cayman Islands'award-winning special economic zone, and Walkers, a leading Cayman Islands law firm ("Walkers"), are teaming up to promote the jurisdiction to the world's mineral industry at the Prospectors & Developers Association of Canada (PDAC) international convention, trade show and investors exchange in Toronto, Canada March 2 – 5, 2014. CEC's Global Business Development Manager Sheridan Robinson and Walkers' Partner Ramesh Maharaj will advocate how the Cayman Islands can help Canadian businesses enhance their outward investment aspirations.
Ramesh Maharaj of Walkers points out that "the Tax Information Exchange Agreement between the Cayman Islands and Canada coupled with the Cayman Enterprise City means a new generation of Canadian businesses can reap benefits which were, until very recently, only affordable to large enterprises."
PDAC represents the interests of the Canadian mineral exploration and development industry, and its annual four-day convention brings together over 1,000 exhibitors and 30,000 attendees from 126 countries. PDAC was established in 1932 and the association currently has a membership of 9,000 individual members and 1,254 corporate members. Members include mining companies, organizations, prospectors, developers, geoscientists, consultants, mining executives, students and others. CEC is already gaining traction in this market sector with 23% of companies in the special economic zone active in the commodities industry.
On Sunday, March 2, 2014, as sponsors and presenters at PDAC, Walkers and CEC will address delegates on how the Cayman Islands has distinguished itself from other offshore jurisdictions with the development of a special economic zone, which enables international companies to quickly and cost-effectively establish mind and management in the Cayman Islands. Walkers and CEC are joined by industry experts Graham Clow, former CFO of New Dawn Mining and Canadian Tax Counsel, Michael Colborne of Thorsteinssons LLP and Sabrina Mexis of Zeifmans LLP as guest speakers.
CEC and Walkers will team up to network at the convention with a common goal of attracting businesses to Cayman which is a stable British Overseas Territory with a robust legal system under British Common Law. The Cayman Islands has a pro-business Government, and Cayman's thriving community of resident Canadian expats enjoys a very cosmopolitan lifestyle. Cayman is strategically located and offers easy access to Canada with direct flights to Toronto through major carriers.
CEC and Walkers will be holding a series of meetings with law firms, wealth managers, tax advisors and interested potential clients. Traditionally Canadian firms have used Barbados for their offshore structuring, but with the development of "mind and management" offered by Cayman Enterprise City, Cayman offers a more cost-effective alternative.
"As a Canadian, I am well aware of the significant impact of the mining industry to the Canadian economy. Canada ranks first among producing countries and is the largest exporter of minerals with more than 20% of production shipped to world markets. The opportunity to network at PDAC with so many leaders in the industry and ancillary businesses is invaluable to the development of our Commodities and Derivatives Park," said Sheridan Robinson of CEC.
About Cayman Enterprise City
Cayman Enterprise City is an award-winning Special Economic Zone located in the Cayman Islands, focused on knowledge-based industries, technology companies and specialized services businesses. With a dedicated Government Authority and guaranteed fast-track processes, international companies can quickly and efficiently establish a genuine physical presence in the Cayman Islands. This enables businesses to take advantage of Cayman's jurisdictional benefits, which include exemption from corporate tax, income tax and capital gains tax, along with a raft of special zone concessions and incentives. These concessions were designed to attract international companies from five specific high-tech sectors: internet and technology, media and new-media ventures, biotechnology, commodities and derivatives, and academia.
About Walkers
Walkers is a leading International Financial Centre law firm. From our offices in the British Virgin Islands, the Cayman Islands, Dubai, Dublin, Hong Kong, Jersey, London and Singapore, we provide legal services to FORTUNE 100 and FTSE 100 global corporations and financial institutions, capital markets participants, investment fund managers and middle market companies. Our global presence means we are always accessible to our clients in all time zones. Walkers is widely recognised as a leader in the offshore legal industry.
FOR MORE INFORMATION:
Call: 1-345-945-3722
E-mail: h.cahill(at)caymanenterprisecity(dot)com
Web: http://www.caymanenterprisecity.com
LinkedIn: Cayman Enterprise City
Facebook: http://www.facebook.com/caymanenterprisecity
Twitter: @CEC_Cayman