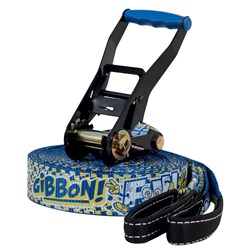 Louisville, CO (PRWEB) February 14, 2014
Kids are always on the hunt for their next big adventure and thanks to Gibbon Slacklines and Bring Your Adventure (BYA) Sports, parents don't need to look further than their own backyard. At the upcoming International Toy Fair 2014 in New York City, these brands will exhibit new outdoor toys that allow families to create a full adventure experience right in their yard or at the local park or beach. Exhibiting at booth #5369, Gibbon Slacklines will introduce the new Funline Slackline and BYA Sports will unveil the Skyline Zipline. The booth will also feature a slackline setup where Toy Fair attendees can try out this new sport with the help of the Gibbon pro athletes.
"For many families, it can be difficult to find an activity that's both fun for everyone and gets the family moving," said Derick Cole, vice president of sales at Gibbon Slacklines. "The new Funline and Skyline Zipline are unique in that they appeal to all ages; from mom and dad to kids and teens, these toys provide hours of outdoor play that benefits the body and the mind."
Winner of Creative Child Magazine's 2013 Product of the Year, the Gibbon Slacklines Funline is a redesigned version of its popular slackline designed for beginners of all ages. This new model now comes equipped with the arm position trainer that's placed above the slackline to provide stability and teach proper slacklining form. Slacklining is a fantastic form of exercise that works core and stabilizer muscles while honing balance and concentration. For kids and teens, slacklining exercises both body and mind, which promotes self-confidence, awareness and team-building skills.
BYA Sports is a new adventure brand and will feature the Skyline Zipline kit as a way to turn outdoor spaces into an adventure playground. Available in three different lengths to fit a variety of outside spaces, the zipline kit comes equipped with all tools necessary for a quick and easy set-up so the entire family can be gliding in no time. The BYA Sports products are designed to support an active, safe and fun lifestyle for families.
To learn more about the Gibbon Slacklines Funline and BYA Sports Skyline Zipline, stop by booth #5369 at the Toy Fair. Visit us online at http://www.gibbonslacklines.com/us and http://www.byasports.com.
###
About Gibbon Slacklines USA
Based in Louisville, Colorado, Gibbon Slacklines USA is the exclusive North American distributor for Gibbon Slacklines. Gibbon Slacklines are a fun and accessible way to increase balance, build muscle, and rehabilitate injuries.
Gibbon Slacklines are available at over 1,000 retailers across the U.S. The company holds slacklining competitions across North America and sponsors a group of athletes to travel the country introducing and teaching the sport of slacklining. For more information about Gibbon slacklines or the sport of slacklining, visit http://www.gibbonslacklines.com/us.
About BYA Sports
Canaima Outdoors presents Bring Your Adventure Sports, or BYA Sports, a sporting goods brand offering active consumers the tools they need to turn just about any space into an adventure. From backyards to beaches, mountains or indoor settings, the brand focus is on items that allow users to take adventure equipment anywhere. All BYA Sports' products feature the highest quality manufacturing and are designed for safe and easy installations.
BYA Sports was founded in Louisville, CO in 2013 and current products include the SkyLine Zipline and Hammock.