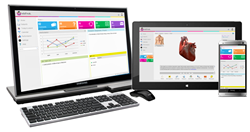 Interactive Learning System with the power of Social Networking
(PRWEB) February 25, 2014
eduFreak, a startup company based in India, has launched a campaign to raise $350,000 USD for its unique online interactive learning system via the crowd funding website, Indiegogo.com. eduFreak is creating the next big thing in education with the novel concept of collaborating social networking with online education-- a platform that will bridge the gap between students, parents, teachers, and educational institutions.
"Have you ever thought of an educational platform that could bring students and educators together in a platform that promotes a smart, interactive, stress-free, and fun-learning environment? eduFreak is exactly that," said Nehil Mehta, Founder of eduFreak. "In today's world, education is becoming a big burden for children-- from early morning bus rides to late night studies, children are busy with the demanding responsibilities of homework, projects, assignments, exams, and most important growing competition. They are allotted less free time to themselves. So, we thought of an innovative concept with the help of advanced technology to help students reduce the burden of stress, allowing them more time to enjoy their lives."
eduFreak is an online interactive educational system specifically designed for students, parents, teachers and educational institutions. All lessons are explained with 3D graphics and animations. The functions of the online lessons allow students to interact, play, replay, forward, rewind, create notes, search similar topics, create discussion threads, and ask questions. With the power of Social Networking, students can connect with the teachers nearest to their area for online tuition or guidance. In absence of the connected teacher, students can accept help from another online available teacher from any part of the world. Students can also interact with friends, teachers and experts via video conferencing, which allows them to share the screen. Also, all comments and notes created by students, friends, teachers and experts will be shared and also available for students anytime for future revisions.
An advanced feature of performance analysis allows teachers to share statistics concerning student performance in study activities, homework, assignments, tests, and exams with parents and other teachers. Parents and teachers will be able to see statistics, and thus accordingly guide them for improvement.
eduFreak is equally important for teachers. Teachers can join eduFreak to connect with students online. Also, teachers can create assignments, papers, and quizzes to share online. Instead of creating every quiz from scratch, eduFreak saves teachers time by allowing them to use shared questions that other teachers had previously created. Teachers can also take online tests, and easily share those results with students and their parents with analytical data.
"It's not an online education website where students are learning in a pre-recorded video or animation with nobody there to respond or rectify students' doubts. It's an interactive platform that allows students to actively interact with experts," inserts Nehil Mehta, the creator of eduFreak. "Also, children that have trouble learning in a traditional classroom will now have access to a new, more engaging approach."
Nehil continues, "We are also launching eduFreak's high-tech learning centers, which are equipped with the latest electronic smart boards, an Xbox Kinect, interactive tables, 3D printers, and advanced laboratory equipment. All lessons are explained with 3D graphics and animations on eBoards. Students will be able to share animations, explanations, and comments among one another. All classroom interactions between students and teachers will be corresponded via tablets. All notes, lessons, questions, assignments, etc. done during the period in the classroom will be available at all the times for future revisions. Students will be able to share their notes and questions on the eBoard for teachers and other students to respond to. Teachers will assign homework on the eBoard for students to complete at home."
eduFreak provides plenty of learning resources -- from eBooks to animated multimedia contents, which are free and readily available to all eduFreak members. "With the eduFreak Interactive Educational System, studies will be smart, interactive, innovative, interesting, and fun," promises Nehil.
Nehil and his team have set a goal to raise $350,000 USD in flexible funding on the crowdfunding site Indiegogo (http://igg.me/p/515471), meaning they will still receive the funds even if they don't reach their goal. This campaign was launched on Saturday February 8th, 2014.
http://www.edufreak.com