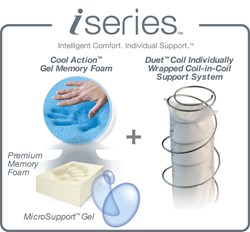 Serta is the most innovative mattress company today. No one pushes the technology the way that they do.
Morgantown, WV (PRWEB) February 13, 2014
Serta has been the top mattress company for the past three years. After decades on top, Sealy was unseated because of Serta's leaps forward when it comes to innovation and continually looking for new ways to improve their product, according to Chuck's Furniture. No company has added as much to the mattress world as Serta has done since they unveiled the iComfort. That was the the first leap forward and they've been improving ever since.
America's Mattress of Morgantown and Clarksburg is a Serta specialty sleep shop. They only deal in Serta products so they are the experts on these beds. No one else in the area has the product knowledge they do. A new line of iSeries and iComfort, available only to America's Mattress dealers, has just been released. As always, the Serta innovation is there.
Elizabeth Prutilpac, manager of the Morgantown, WV location was impressed with the new lineup. "They've really taken these new beds to the next level. Starting on the surface, the covers have been upgraded. The new tencel material is much better at wicking away moisture to alleviate night sweating. It is also anti-bacterial and easier on sensitive skin. The gel foam has been completely redesigned to react faster to your body while providing even greater support. All in all, these mattresses are leaps and bounds ahead of the competition and at much better prices"
To prepare for these new models, the Morgantown and Clarksburg America's Mattress locations have reduce all prices. This means that customers can get a fantastic bed for less than the wholesale price. These prices will only be found at America's Mattress.