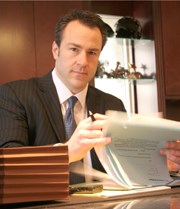 An aggressive driver is often frustrated when other drivers don't do exactly what they want. If possible, just get out of their way. Don't engage with an aggressive driver.
Lansing, MI (PRWEB) February 15, 2014
Do you get angry at other drivers? Do you get frustrated when others drive too fast, or too slow, or too close? Do people tell you to "calm down" when you're behind the wheel? You could be an aggressive driver. February is Aggressive Driving Awareness month, and auto accident Attorney Jason Waechter wants you to know what aggressive driving looks like and what you can do if you encounter an aggressive driver on the road.
"Aggressive driving can result in serious injury or death to someone who may be driving completely within the limits of the law," says Waechter. "Aggressive driving is a form of negligence. It's someone making a conscious decision to put their interests before everybody else's and potentially put other people at risk." Waechter has dedicated over 20 years of legal practice to helping auto accident injury victims and their families. He has seen first-hand the damage aggressive drivers can cause to the people they injure or the families of the people they kill by their actions.
According to NHTSA (National Highway Traffic Safety Administration), aggressive driving is when "an individual commits a combination of moving traffic offenses so as to endanger other persons or property." Speeding is the best-known example of aggressive behavior, and according to an NHTSA fact sheet, and it can lead to other aggressive behaviors, including tailgating, excessive or unsafe lane changing, dangerous passing (including on the right), and others. Yelling or making faces or gestures at another driver is also a sign of aggression. Speeding, says AAA Foundation for Traffic Safety, is the most common aggressive driving behavior, and even though speed is a factor in more than one-third of fatal crashes in the United States, more than twenty-five percent of drivers think it is "acceptable" to speed. Aggressive driving shouldn't be confused with road rage, which NHTSA defines as "an assault with a motor vehicle or other dangerous weapon by the operator or passenger(s) of another motor vehicle or an assault precipitated by an incident that occurred on a roadway."
Waechter doesn't think there is any good reason to be an aggressive driver. "We are not talking about driving fast because of an emergency, like you would if you had to take a loved one to the hospital. Aggressive driving is often about ego, in my opinion. An aggressive driver is often someone who thinks they're more important than other people, or who didn't bother to plan ahead before getting behind the wheel, so they feel frustrated when drivers don't do exactly what they want." He also warns all drivers to steer clear of aggressive drivers whenever possible. "As an auto accident injury attorney, I can tell you that confronting an aggressive driver is not worth it," says Waechter. "If someone is going crazy behind you, get out of their way and, if it's safe to do so, copy their license plate and call the police. Put your safety and the safety of your passengers first in these situations," he advises. Finally, Waechter recommends contacting an experienced lawyer to anybody whose car accident injuries were caused by an aggressive driver.
Are you an aggressive driver? Check out AAA's quiz to find out more.
####
Jason Waechter has spent two decades cementing his reputation for results. Over the years, he has specialized his practice to auto, truck, and motorcycle accidents. Jason has fought tirelessly for accident injury victims and contributed significantly to safety education and accident prevention. He has entrenched himself as one of the nation's premier lawyers, recently being named to the Michigan Super Lawyers and Michigan's Best Lawyers. If you or a loved one has been injured in an accident, call 1-800-708-5433 to speak with a lawyer who can help.