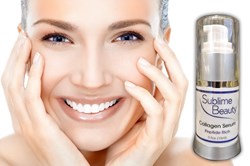 Improve skin with Sublime Beauty® products and take 15% off the first purchase through Saturday, with free shipping and the new VIP Club.
(PRWEB) February 20, 2014
Improve skin with quality Sublime Beauty® products that boost collagen, reduce wrinkles, moisturize and improve skin.
The new Sublime Beauty® store offers 15% off the first purchase through Saturday, plus free shipping and the VIP Club for points.
"Our products are available on Amazon, but we now offer a new site that gives you Sublime Beauty® VIP Points with each purchase, free standard shipping, videos and reports on product pages and the ability to donate to charity by rounding up purchases," says Kathy Heshelow, founder of Sublime Beauty®.
Take 15% off the first purchase with coupon code LAUNCH15B through Saturday, February 22.
The Face Whisperer® line, the Ageless line and special serums (like the popular Collagen Peptide serum or the new stem-cell serum) are specialities at Sublime Beauty®.
"The Face Whisperer® Day and Night creams were featured on tv, and we recently introduced the Face Whisperer® Advanced Eye Gel to diminish dark circles, bags and wrinkles with patented ingredients," says Heshelow.
Many of the products include Matrixyl®, a peptide that can double collagen production. The Face Whisperer® Day cream, neck cream and the dermal filler (Ageless Line Smoother) feature Argireline®, known as the natural botox.
"Each product has a great story behind it, and we carefully chose each to be added to our line. We help you from head to toe, including Skin Brushes, an organic foot balm and pure body oil, and lots of special products for the aging skin. A list of the Sublime Beauty® products is found here.
The 15% off discount ends Saturday, and new visitors can join the VIP Club to earn points for the purchase as well.