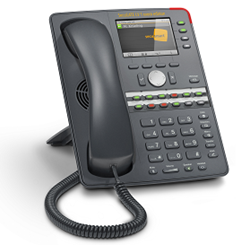 It's important to safeguard enterprise voice communications at all levels and on all devices. This solution ensures that voice data is secure from hackers.
Berlin (PRWEB) February 13, 2014
snom technology, a leading developer of IP desktop business phones, today announced that it has partnered with Secusmart GmbH to develop secure desktop telephones that prohibit tapping.
The phone, the SecuGATE LV1 snom edition, will be demonstrated at the CeBIT trade show in Hannover, Germany (March 10-14) and will be available worldwide later this year. The first snom phone to feature the security feature will be the snom 760, an executive-level phone with a color display, Gigabit Ethernet, two USB ports, HD audio and 16 multifunction keys.
Secusmart's technology uses an encrypted security card, inserted into a slot on the phone that prohibits voice traffic from being hacked and intercepted.
This adds a layer of protection that is crucial to governments and enterprises looking to safeguard their most valuable asset – company data.
"It's important to safeguard enterprise voice communications at all levels and on all devices," said Dr. Michael Knieling, chief operating officer of snom technology AG. "This solution ensures that voice data is secure from hackers."
Secusmart is perhaps best known for its SecuSUITE technology, which is used to secure the mobile phone of German Chancellor Angela Merkel.
"We have been protecting all mobile communication in German government ministries from eavesdropping and now we are expanding our focus to landline communication," said Dr. Hans-Christoph Quelle, managing director of Secusmart.
snom and Secusmart have worked together since 2012, and have long emphasized usability and simplicity.
"Our common goal is anti-tapping protection," said Dr. Quelle.
Security consistency ranks as a top IT concern. That's why enterprises go to great lengths to protect their data from breaches and intrusions. According to Gartner Inc. the worldwide market for security technology and services is expected to reach $86 billion in 2016.
Voice communication is no less sensitive than documents stored on a server. snom and Secusmart understand this, and are ensuring that all forms of corporate information, including voice, are safeguarded against hackers.
Follow us on Twitter, like us on Facebook, join our LinkedIn group or add us on Google+
About snom
Founded in 1996, snom develops and manufactures VoIP telephones and related equipment based on the IETF open standard, SIP (Session Initiation Protocol). Recognized for its high-quality, customizable and cost-effective business phones, snom is also differentiated by the company's history in the VoIP industry and its dedication to high security standards. All of snom's products are designed to be fully interoperable with leading communications equipment vendors. snom customers and partners benefit from the interoperability and flexibility that snom telephones offer, including plug-and-play integration and universal compatibility with standards-based SIP VoIP platforms, applications or services. In September 2011, the snom 300 and snom 821 became the first and only SIP phones to achieve "Qualified for Microsoft Lync" status – Microsoft's top distinction for fully tested interoperability and compatibility with Microsoft Lync. snom's leadership continues today, based on its six-phone UC edition portfolio – the industry's largest and most extensive family of standards-based business phones qualified for Microsoft Lync enterprise environments.
snom is headquartered in Berlin, Germany, with offices in Italy, France, the United Kingdom, Taiwan and the U.S. that support a global network of channel partners in Europe, the Americas and Asia Pacific. For more information, visit http://www.snom.com.
Media Contacts
North America
John Gates
Elevate Communications
+1 (617) 861-3651
john(at)elevatecom(dot)com
Global
Christian Baier
Jason Green
Berlin, Germany
+49-30-39833-106/105
Christian.baier(at)snom(dot)com
Jason.green(at)snom(dot)com
# # #