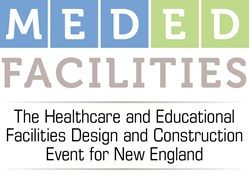 Key programs which address building code and facility guideline updates featured at MED-Ed Boston.
Centerville, MA (PRWEB) February 18, 2014
MED-Ed Facilities Boston, the healthcare and educational facilities design and construction event for New England, April 1-2, 2014 at the Seaport World Trade Center Boston Massachusetts announced key programs which address building code and facility guideline updates.
Developing Facilities Guidelines / Construction Standards
What does a facility manager do when their university owns and manages over a hundred buildings built over the last 100 years? How do they manage the process and the large number of stakeholders – from students, to faculty, to administrators, to their internal engineering and maintenance staff.
Code Essentials for New and Existing Buildings
There are certain basic concepts of building code life-safety that apply to all construction, renovation, additions and changes in use. This seminar describes the application of requirements for use and occupancy, construction type, height and area, interior finishes and egress as they apply to each of concepts.
The New 2014 FGI Guidelines - Meeting the Client's Needs
The FGI Guidelines have been undergoing a major revision over the past three years. The new Guidelines for Hospitals and Outpatient Facilities and Guidelines for Residential Care will be available in late February of 2014. In this era of health care reform many traditional design concepts are being challenged by state and federal payers, clinicians, patients, and professionals supporting the physical environment.
The educational program featuring real-world, solutions-based case studies and management discussions relating to the planning, designing, construction, and facility management of medical and educational building types. AIA Learning units are available for all sessions at MED-Ed Facilities.
Over 80 medical and educational facilities planners, building science experts and many more share their day-to-day experiences in this fast-paced profession. Here's a complete list of speakers to-date.
Sponsored by the Boston Chapter of the Construction Specifications Institute, the New England Real Estate Journal, and High Profile Monthly, this event is for the entire New England building industry.
ABOUT US
MED-Ed Facilities is produced in collaboration with Tradeshow Management Services Ltd., a full-service tradeshow company specializing in conferences and tradeshows for the design, building and construction marketplace. TMS has been affiliated with leading events including AEC SYSTEMS, ArchitectureBoston Expo (ABX), Build Boston, Residential Design & Construction, Ecobuild America, Federal Construction Outlook Conference, BIM Expo, and Construction Technology.