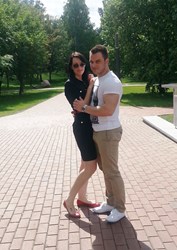 Fizzy offers great value for money. In London for a decent room in a shared house you'd pay between £600 - £800 per month. We're spending less than £500 each.
London (PRWEB UK) 13 February 2014
It's Valentine's Day – flowers, chocolate, keys to a new flat? Well, why not? Contrary to belief, being and living in love is cheaper, than living apart.
Remi and Edita, both 26 have been together for two years and in November 2012 they decided to move in together. They live in a two bedroom flat at Fizzy Canning Town with friends who are also a couple.
Remi, the Fiancé said, "Yes, it was a nudge financially to move in together. She had her place and I had mine but we spent most of our time together. Moving in together was a big step so we had to find the right flat, with a good tenancy agreement, in the right location. When we viewed the flat we now live in we thought it was perfect and we moved in shortly after with another couple. It is really fun, not only do we live with friends but we get to split the rent and bills 4 ways."
"Fizzy offers great value for money. In London for a decent room in a shared house you'd pay between £600-800 per month. We're spending less than £500 each."
Bride-to- be, Edita said, "Remi proposed to me last summer in the flat. It was a regular evening when he asked me. My first thoughts were, oh my god he's joking so I didn't answer, and then he asked again the next day but he didn't have a ring. I asked where the ring was and he explained a ring is just a ring and our feelings are more important. But when I said 'YES' I got the ring!"
"We will be getting married on the 9th May, we will start our married life together in our flat and I never want to leave, as it is filled with such happy memories. I love living here, Hannah (Property Manager) is amazing, when she found out we were getting married, she gave me bridal magazines and sent wedding ideas via email. She has helped me a lot, where else would you find that level of service. She makes living at Fizzy a pleasure. I love our home and when we first viewed it, I made sure we moved into it straight away."
Hannah, Property Manager at Fizzy Canning Town said, "We do have many tenants and prospective tenants that are young couples. Many of which see it as a financially more viable way to live in London. With some opting to move in with other couples, as unlike many flats in London, our flats with more than one bedroom come with one en-suite and a shared bathroom. They are made for sharing!"
According to research by uSwitch, the annual premium for being single is around £5,000, and over the course of a lifetime, singletons will end up spending over an estimated £250,000 more than those in relationships. Financially it makes sense and that is exactly why young couples at Fizzy are choosing to live together and not apart.
Love doesn't just make living cheaper, Fizzy is still giving away two weeks free rent. The offer is valid until midnight 1st March 2014, and tenancies must commence by 1st April 2014. Terms and conditions apply. Please visit http://blog.fizzyliving.com/ for more information.