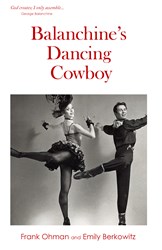 "Frank Ohman continues gracing his life of dance through his teaching, his school, and his company. I am filled with admiration for his accomplishments." - Jacques D'Amboise
New York, New York (PRWEB) February 19, 2014
The world knows George Balanchine as the genius choreographer who transformed classical ballet, but what was he like as a friend? As a life coach? As a teacher? Very few knew him in these roles, but New York City Ballet soloist of twenty-two years, Frank Ohman, did. In his just-published memoir, Balanchine's Dancing Cowboy, Ohman reveals new, previously unexplored aspects of Mr. Balanchine's brilliance: as a master teacher, as a caring friend, and as a deeply philosophical man.
Jacques D'Amboise, New York City Ballet legend and founder of the National Dance Institute, says "(The book) is excellent and captured Frank and Balanchine, especially the spirituality and example he set to all those around him….Frank Ohman continues gracing his life of dance through his teaching, his school and his company. I am filled with admiration for his accomplishments."
Co-authored by Emily Berkowitz, Ohman's memoir is an inspiring, American success story of a boy living in the rural West who sees a movie that changes his life, and with talent and work rises to become part of one of the world's finest ballet companies.
Ohman also provides a very rich view of the pinnacle of the ballet world having danced some of the greatest works with renowned dancers including Suzanne Farrell, Maria Tallchief, Melissa Hayden, Allegra Kent, Patricia McBride, Gelsey Kirkland, and Cynthia Gregory, and in works choreographed by the pantheon of dance that in addition to Mr. Balanchine includes Jerome Robbins, Antony Tudor, David Lichine, and Jacques d'Amboise.
The memoir captures a special period of cultural history in ballet and in New York City, when Balanchine's works were becoming recognized and the Company's style was gathering followers and earning critical acclaim.
For more information about Balanchine's Dancing Cowboy, please contact Gail Port at 917.892.4772.
Now available on Amazon.com in print and e-book formats.