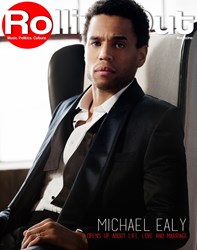 I was just very lucky that the stars lined up for me.
Atlanta, GA (PRWEB) February 13, 2014
In many ways, Michael Ealy is very interesting. From his new Fox sci-fi series "Almost Human," to an upcoming turn in the highly anticipated Valentine's flick, 'About Last Night' — with Kevin Hart, Regina Hall and Joy Bryant — there's no shortage of interesting things happening in Ealy's life.
"For me, I'm always going to try and stretch. I feel like my television show, 'Almost Human' gives me that opportunity. I'm not playing a human … I'm playing a machine that wants to be human, and I feel like that's allowing me to increase my range and increase my body of work," he tells rolling out.
"It's ['About Last Night'] about exploring the complexities of a relationship versus it being 'funny, funny, ok now we love each other.' We get into the minutiae, which made this right for me to delve into the genre again. This movie is truthful when it comes to relationships … this is all very real. In fact, I've personally gone through this."
Ealy, whom we consider a longtime friend, sat down with rolling out and opened up a bit about his life in Hollywood, and his unexpected wedding announcement that shook women everywhere.
"I've found that for me, the timing of it was right … when you find someone that you actually want to spend the rest of your life with, you have to go for it. I was just very lucky that the stars lined up for me."
Visit rollingout.com to read the interview in its entirety. Be sure to check out this and other exclusive photo shoots with celebrity photographer DeWayne Rogers.
About rolling out Magazine:
Rolling out, the nation's largest free urban weekly, is a digital and print magazine that focuses on the black experience in response to entertainment, politics, fashion, culture, sports and lifestyle points of interest. Headquartered in Atlanta, rolling out is positioned as the voice for the African American experience, using its newspaper as a platform in the marketplace to express urgency for education reform, and to document entrepreneurial endeavors and other relevant issues in the Diaspora. For information on rolling out, please log on to rollingout.com.