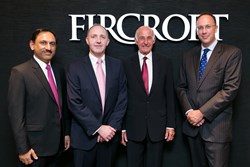 (PRWEB UK) 15 February 2014
Fircroft, one of the world's leading providers of technical recruitment, today establishes its Asia-Pacific headquarters in Singapore as its operations expand in the region. From its base in Singapore, Fircroft will now oversee and service over 2,500 contract engineers in the energy and resources industries in countries in the region, that include Australia, Indonesia, Malaysia, Singapore, South Korea, Thailand and Vietnam.
The official opening of Fircroft's Singapore office at Raffles Place was held on Thursday evening. The ceremony was officiated by His Excellency Mr Antony Phillipson, British High Commissioner to Singapore.
Mr Phillipson said: "As an established UK company well-known in its industry, Fircroft's expansion into Asia-Pacific with a new office in Singapore reflects the strong economic ties and relationships that Singapore and UK businesses have built over the years. We are encouraged by this development and look forward to more UK firms using Singapore as a regional base for their growth."
Johnathan Johnson, Fircroft's Chief Executive Officer, said: "Today, we mark a significant milestone in our Group's corporate history and we would like to thank His Excellency Mr Antony Phillipson for his support.
"For the past five years, we have seen exponential growth in our Asia-Pacific markets, mostly driven by the energy and resources boom in the region. In fact, this is one of the fastest-growing segments of our business. Revenue contribution from our Asia-Pacific division constitutes over one third of our total turnover and will exceed 40% in the near future. Skilled engineers and technicians serving these sectors are in demand by our clients, which include some of the oil majors, who are ramping up operations to tap into the opportunities here."
Since becoming its CEO ten years ago, Mr Johnson has taken the UK-based, family-run company global. The company now has operations in 60 countries spanning from Azerbaijan and Kazakhstan to Thailand and Australia.
Dhirendra Shantilal, the Group's Asia-Pacific Head and a member of its board of directors, added: "Singapore is one of the main financial and business hubs in the world, as well as a key energy centre in Asia, making the country a choice location for Fircroft's Asia-Pacific headquarters. As Singapore continues to develop its energy, resources and technical offerings and capabilities, Fircroft aims to play a role in providing the expertise and talents that would support this area of growth and maintain Singapore's global competitiveness.
"Going forward, we plan to expand into China and India, continuing to ride on the economic progress and positive industry momentum in the energy and resources space. Singapore is best positioned geographically to help us achieve that growth."
About Fircroft
Fircroft is one of the world's leading providers of recruitment solutions to specialist technical industries, active in over 60 countries worldwide. With over 44 years' experience of delivering high-quality solutions to our clients, we currently provide over 8,000 contractor professionals in support of our clients' global operations. We are active in several key sectors including Oil & Gas, Power & Energy, Automotive, Mining & Minerals and Engineering.
Fircroft deliver professional services contracts on a preferred or sole supply basis with some of the world's largest energy companies.
For more information, please visit the website at http://www.fircroft.com/.