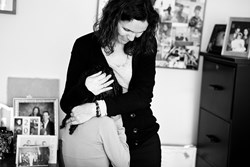 New York, NY (PRWEB) February 17, 2014
Spence-Chapin is holding an adoption open house Thursday, February 20th, 5:30-7:30 p.m. and is urging anyone who's thinking about adopting to join the event. The Open House will be held at Spence-Chapin's Manhattan office, 410 East 92nd Street.
Potential adopters are urged to 'save the date' for this drop-in session where they can find out more about transforming children's lives. The event is an opportunity to learn more about adoption paths at Spence-Chapin, meet our adoption team and ask questions about domestic and international adoption programs.
This event is helpful for people who want to adopt or who are simply contemplating adoption. It's completely normal for prospective adopters to have many questions and this is an opportunity to find answers. Adoption is a lifelong commitment and is about providing a child in care, who cannot return home, with a permanent and secure family. Anyone can be considered - people on their own or in a relationship, working or not working, regardless of their race, religion, sexual orientation or financial situation.
Spence-Chapin is a full-service adoption agency bringing over 100 years of experience to a new mission: creating permanent, loving families for children most in need - older children, siblings and children with special needs. We are growing the pool of willing adoptive parents by lowering the financial barriers to adoption. We are educating families as they consider adoption and reducing the fears that can overwhelm the process. Through the Modern Family Center, Spence-Chapin is helping each family member navigate their individual adoption stories with clarity