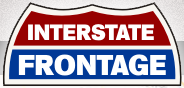 Jarrell, Texas (PRWEB) February 14, 2014
Locating highway frontage property has just been made simpler through Interstate Frontage and their new website. Interstate Frontage.com presents an easy and free way to search for or list properties that are exposed to major corridors stretching across the nation.
Searching for investment property can be difficult if left to one's own methods. Interstate Frontage.com displays nationwide property listings, all on one site. Instead of having to search various sites or visit many states to determine what properties are available, searchers can visit the convenient new website and receive extensive details about available land and buildings, including contact information for the owner or agent. The search engine is free to use and it does not require individuals to sign in or sign up for a membership.
Properties can be found by state, city, highway name, or other criteria. The website offers a quick search panel at the top of the webpage, which enables searchers to speedily find land or buildings on specific highways and interstates. Inquirers can also find highway frontage real estate listings by state, highway, or popular city through the convenient search panel located at the bottom of the home page. Also displayed on the site are featured properties, which provide a quick and fun slideshow of land that is available on highways throughout the nation. More details about the acreage can be obtained by simply clicking on the photo.
Land owners and realty agents are able to display property on the convenient website by signing in and setting up an agent or company profile. Interstate Frontage.com allows the company or agent to incorporate details about their business along with links to company websites and social media sites including Twitter, Facebook, LinkedIn, and YouTube. They can then create listings for their frontage properties that contain images, a description, seller information, price, and much more. Listing land on the new website helps expose the property to interested parties. For even more exposure, acreage can be featured on the homepage through featured listings.
To view highway and interstate properties that are for sale throughout the nation, visit http://www.interstatefrontage.com/. For more information about the company call 512-639-7029 or email info(at)interstatefrontage(dot)com.