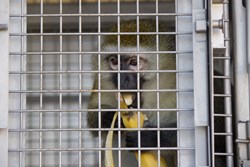 "We are equipped to care for the monkeys and able to offer them a better life and begin their rehabilitation—emotionally and physically—after their horrific life as someone's pet...." - Tim Ajax, Born Free USA
Washington, DC (PRWEB) February 13, 2014
After a Japanese macaque and a vervet monkey were rescued from deplorable conditions as someone's "pet" at a home in Carlisle, Pennsylvania, the Born Free USA Primate Sanctuary welcomed the two female primates this week, providing them with a forever home at the 186 acre facility in Dilley, Texas.
On January 31, 2014, The Humane Society of Harrisburg Area, along with law enforcement officials, were called to investigate the Pennsylvania home after a police officer, responding to an attempted burglary call, saw dozens of animals in unsanitary conditions on the premises. Among them were a Japanese macaque (snow monkey) and a vervet living in small cages in an unheated garage. The macaque was housed in a dog kennel inside the garage, on concrete with urine-soaked newspaper. The vervet was housed in a five-foot by five-foot cage.
Tim Ajax, Director of the Born Free USA Primate Sanctuary said, "The local Humane Society reached out to us because we are equipped to care for monkeys and they wanted to find the best facility for them. We are happy to be able to offer them a better life and begin their rehabilitation – emotionally and physically –after their horrific life in a cage as someone's 'pet.' They came from confinement without the proper socialization required for these wild animals. This means we have a lot of work ahead to give them a better, healthier life. We're up to the challenge."
According to Amy B. Kaunas, Executive Director, Humane Society of Harrisburg Area, Inc., "We were so fortunate to have found such a wonderful place for these monkeys. After working with Tim Ajax through the transport process and touring the sanctuary, I have full confidence they are going to thrive at the sanctuary. However, the sanctuary, like all nonprofits, needs the public's help to do that. Please support the Born Free USA Primate Sanctuary and help raise funds for the proper medical care rehabilitation and permanent housing for these deserving animals."
Both monkeys will be quarantined for thirty days while they are fully evaluated and treated, prior to beginning their rehabilitation and eventual placement in proper social groups among the over 600 residents living at the Sanctuary.
Adam Roberts, CEO of Born Free USA, a leader in animal welfare and wildlife conservation explains, "Every day wild animals need to be saved from horrific situations caused by humans who have made a business out of confining them for profit, research and entertainment. Wild animals belong in the wild and these scenarios should never exist. Sanctuaries are struggling for space, are costly to run, and are the only safety net for these animals. Just to provide proper food and diet alone for our 630 residents costs approximately $150,000.00 a year. We are grateful to be able to help these two primates—they are the lucky ones."
The 186 acre Born Free USA Primate Sanctuary is home to 22 baboons, three vervets, and more than 600 macaques representing seven different species. Located near Dilley, Texas (75 miles south of San Antonio), the Sanctuary is the only one of its kind in the U.S. in that the majority of its residents -- ages two to thirty-one -- live in free-ranging groups in natural enclosures of several acres, providing a safe, permanent home for its residents, many of whom were rescued from roadside zoos, research facilities, or private possession. In order to allow the residents the maximum amount of privacy and freedom, with minimal human interference, the Sanctuary is not open to the public. However, the public can support the work of the Sanctuary by making a financial donation; purchasing an item from the Sanctuary's online wish list; or by "adopting" one of its residents. The Born Free USA Primate Sanctuary is accredited by the Global Federation of Animal Sanctuaries (GFAS). To support the Pennsylvania primates click here.
Born Free USA is a nationally recognized leader in animal welfare and wildlife conservation. Through litigation, legislation, and public education, Born Free USA leads vital campaigns against animals in entertainment, exotic "pets," trapping and fur, and the destructive international wildlife trade. Born Free USA brings to North America the message of "compassionate conservation" - the vision of the United Kingdom-based Born Free Foundation, established in 1984 by Bill Travers and Virginia McKenna, stars of the iconic film "Born Free," along with their son Will Travers. Born Free's mission is to end suffering of wild animals in captivity, conserve threatened and endangered species, and encourage compassionate conservation globally. More at http://www.bornfreeusa.org; http://www.twitter.com/bornfreeusa; and http://www.facebook.com/bornfreeusa.