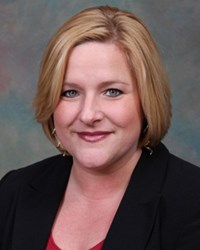 "We are so proud of JP," says Matt Rand. "She is a natural leader who brings a level of commitment and dedication to everything she does. She will be an asset to NYSAR."
Albany, NY (PRWEB) February 14, 2014
Matt Rand, Managing Partner of Better Homes and Gardens Rand Realty announced that Rand New City, NY office manager, JP Endres has been installed as the New York State Association of REALTORS® 2014 President. "We are so proud of JP," says Matt Rand. "She is a natural leader who brings a level of commitment and dedication to everything she does. She will be an asset to NYSAR."
Endres is a licensed broker and has been a REALTOR® for 19 years. She's a past President of the Westchester County Board of REALTORS® (currently the Hudson Gateway Association of REALTORS®). She was named local board's REALTOR® of the Year in 2004 and has served on numerous committees. JP has chaired the investment, budget and finance, organizational planning, the communications and public relations committees as well as professional standards. She has served on multiple other NYSAR committees including education, legal action, management and international real estate. She is a 2009 graduate of the NYSAR Leadership Academy. She was named the state association's REALTOR® of the Year in 2010. Endres has served as a National Association of REALTORS® director and as a member of the Professional Standards Committee. She currently serves on the Multiple Listing Issues and Policies Committee. She is a regular attendee of NAR's national conference and is a President's Circle and Crystal "R" supporter of the REALTORS® Political Action Committee (RPAC).
JP can be contacted at jp.endres(at)randrealty(dot)com.
About Better Homes and Gardens Rand Realty
Better Homes and Gardens Rand Realty is the premiere real estate brokerage in the Greater Hudson Valley and Northern New Jersey serving Westchester, Rockland, Orange, Putnam, Dutchess, Bergen and Passaic counties. Founded in 1984, Better Homes and Gardens Rand Realty has more than 800 residential real estate sales associates, a commercial real estate company (Rand Commercial Services), and affiliated service companies (Hudson United) offering residential mortgage lending, title services, and commercial/residential insurance. For more information, visit us at: http://www.randrealty.com, http://www.randcommercial.com and http://www.hudsonunited.com. Or follow us on Facebook (Better Homes and Gardens Rand Realty), Twitter (@BHGRand), and Pinterest (Better Homes and Gardens Rand Realty).