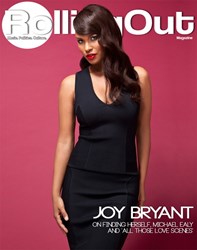 Atlanta, GA (PRWEB) February 14, 2014
Joy Bryant has that lethal combination of beauty, smarts and an assured sense of self. The actress made her breakthrough in the 2002 drama 'Antwone Fisher' and landed major roles in other high-profile projects like 'Honey,' 'The Skeleton Key,' and 'Get Rich Or Die Tryin'.' She's now paired up with heartthrob Michael Ealy in the romantic comedy 'About Last Night.'
"When I found out they were doing a contemporary funny remake [of the film], it was a no-brainer for me," Bryant tells New York-based writer Todd Williams. "Equally important was being able to work with Kevin [Hart] and Mike and Regina [Hall]."
The film is a frank and funny look at sex, one-night stands, and relationships and Bryant was well aware that the original never shied away from intimate moments.
It's pretty easy to understand why Joy Bryant doesn't get intimidated very easily. Bryant began attending a private school in Connecticut, worlds away from the South Bronx that she knew so well.
Joy excelled at the school and went on to Yale before she dropped out to pursue modeling. Now, looking back, she feels as though all of those experiences helped thicken her skin — as well as expand her worldview.
"When I dropped out of Yale and started modeling, having had exposure to a world outside of my neighborhood was great," she says.
Visit rollingout.com to read the interview in its entirety.
About rolling out Magazine:
Rolling out, the nation's largest free urban weekly, is a digital and print magazine that focuses on the black experience in response to entertainment, politics, fashion, culture, sports and lifestyle points of interest. Headquartered in Atlanta, rolling out is positioned as the voice for the African American experience, using its newspaper as a platform in the marketplace to express urgency for education reform, and to document entrepreneurial endeavors and other relevant issues in the Diaspora. For information on rolling out, please log on to rollingout.com.