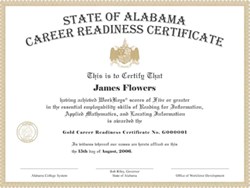 WIN Learning will help our adult learners identify and remediate skill gaps... for improved employability.
Kingston, TN (PRWEB) February 17, 2014
Committed to helping students prepare for life after high school, and adult learners to stay competitive and build the skills necessary to secure jobs, the Alabama Department of Postsecondary Education has turned to WIN Learning to support Career Ready Alabama, a statewide initiative aimed at increasing career or work-ready skills for individuals and providing businesses a tool to help them identify career ready employees. WIN Learning is a recognized leader in web-based career and college readiness programs used by states, colleges, and school districts nationwide.
"An ongoing focus of the Workforce Development Division is to help create a workforce that can be successful today and in the future," said Sarah Horton, regional workforce initiatives coordinator with the Governor's Office of Workforce Development. "WIN will help our adult learners across Alabama identify and remediate skill gaps they may face in their current positions while building and reinforcing workplace skills for improved employability in the future."
Through Career Ready Alabama, job seekers will be given free access to WIN Learning's Personalized Career Readiness System and its Career Readiness® Courseware(CRC), which includes 41 competency-based, Internet-delivered modules, and more than 120 hours of skills remediation per skill, in ten academic and foundational skill topic areas. They include: reading for information, applied mathematics, locating information, listening, observation, applied technology, business writing, writing, work habits (soft skills) and teamwork. Learners work at their own pace through the system receiving constant, relevant feedback. Post-tests at the conclusion of each module and certificates of completion tell students they have succeeded in mastering the material.
"WIN Learning is dedicated to developing, engaging and preparing a workforce that allows employers to thrive and thus, lead to individual and economic prosperity for the community," said Joseph Goins, executive vice president, WIN Learning. "Our solution sets the standard for offering adult learners and job seekers training in real-world workplace skills. We are really addressing life-learning proficiencies that are critical to life-long success for individuals whether they work in a small business or a Fortune 500 company or decide to further their education. Everyone wins."
About WIN Learning
Since 1996, WIN has become the leading provider of career readiness solutions to help districts prepare pathways for students' futures, whether they are college, trade school, military or workplace bound. To date, more than 10 million students worldwide have participated in the specialized career–driven courseware and education intervention initiatives as well as career-readiness certification programs. For more information, go to http://www.winlearning.com or call 888-717-9461.