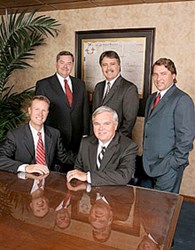 There are both preventive and reactive measures for Facebook users to stop ad tracking
Tampa Bay, Florida (PRWEB) February 14, 2014
Carlson Meissner Hart & Hayslett's Kevin Hayslett, The Attorney to the Stars, explains that companies are tracking Facebook users consumer habits and sending them targeted advertising, but there are steps you can take to block them.
The Facebook phenomenon has grabbed hold of more than a billion users worldwide and is still growing. As users of all ages eagerly share their latest selfie picture, check in at their favorite restaurant, comment on this year's #1 movie or song, or "like" friends updates and recipes, they are often naïve to the fact that they are unintentionally leaving behind a clue into their personal interests and preferences for advertisers.
Facebook makes money by giving advertisers access to their users. Currently, more than one million businesses advertise on Facebook, generating over 80% of the social media company's revenue. According to Facebook, they place targeted ads on your news feed "based on the things you do on Facebook, such as liking a page or commenting on a story, and the information you share, such as your current city or birthday." Using your Facebook account to download and access apps also makes you vulnerable to receiving ads targeted to your preferences and buying habits.
Attorney Kevin Hayslett of Clearwater law firm Carlson, Meissner, Hart and Hayslett, an active Facebook user himself, says there are several steps users can take to thwart pesky advertisers and regain at least a small bit of privacy. "There are both preventive and reactive measures for Facebook users to stop ad tracking," says Hayslett. Attorney Hayslett suggests the following:

Create a dummy email address that you use solely for Facebook
Do not give Facebook your real phone number
Do not give retailers your email address, phone number or zip code
Do not give app developers access to your Facebook account
Do not complete the entire profile section on Facebook
Adjust your privacy settings on Facebook to control advertising activity
Install a privacy tool to block ad tracking
Contact that data brokers that work with Facebook and request an opt out of having them share your information with advertisers
Follow Carlson, Meissner, Hart and Hayslett on Facebook to stay on top of current business trends that may affect you or raise legal questions: https://www.facebook.com/Carlsonmeissner
This information is provided for educational purposes only and does not constitute legal advice.
About Carlson, Meissner, Hart & Hayslett , P.A.
The law firm of Carlson, Meissner, Hart & Hayslett P.A. was founded in 1971 by attorneys Ed Carlson and Paul Meissner. For more than four decades, they have been committed to protecting the injured and defending the accused. Their attorneys have established a solid reputation of case success throughout Florida, providing strong legal representation, easy accessibility and a high level of dependability. A client-centered approach ensures that clients know what is happening as their case progresses, and understand their options every step of the way. With a focus on personal injury, they help victims of auto accidents, slip and falls and wrongful death accidents. The firm is well-known for their innovative criminal defense work, defending both local and high-profile clients. Attorney and Partner Kevin Hayslett is widely recognized as The Attorney to the Stars, providing strong legal representation for notable celebrities and dignitaries throughout Florida. The firm also handles social security disability, workers compensation, divorce, family law and immigration cases. They offer free initial consultations and have five convenient Tampa Bay Area locations. Attorneys are available 24/7 for emergencies. Count on the legal team of Carlson, Meissner, Hart & Hayslett, P.A. to be there, fighting for you, protecting your rights. For more information or to schedule a consultation, call 877-728-9653 or visit their website at http://www.CarlsonMeissner.com