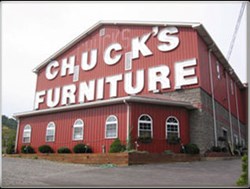 These beds are absolutely amazing. How they do it for $1000s less than their competitors, I don't know.
Morgantown, WV (PRWEB) February 13, 2014
Serta became the number one selling mattress company in 2012, according to a Furniture Today market study in May of 2012. Serta was able to upset Sealy, who had been the market leader for decades, by putting a greater focus on developing better mattress technologies. The Icomfort, according to the same article, fueled this surge. It went on to say it was the greatest achievement in former Serta President Bob Sherman's career.
Chuck's Furniture of Morgantown, WV has been the local source for home furnishings in the North Central WV area for nearly 50 years. They only sell Serta products so they are the experts on these beds. No one else in the area has the product knowledge that they do. A new line of Iseries and Icomforts, available only to Serta specialists, has recently been unveiled to a select few. James Prutilpac, a sales manager at Chuck's was able to try these new beds recently.
"They've really taken these new beds to the next level. Starting on the surface, the covers have been upgraded. The new tencel material is much better at wicking away moisture to alleviate night sweating. It is also anti-bacterial and easier on sensitive skin. The gel foam has been completely redesigned to react faster to your body while providing even greater support. All in all, these mattresses are leaps and bounds ahead of the competition and at much better prices."
To prepare for these new models, Chuck's Furniture is cutting prices on the current models. Many floor models will be below cost.