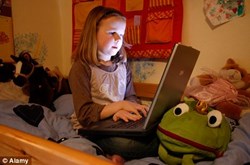 We have to start thinking about curtailing the media exposure of children so they are get the sleep so critical to proper, healthy development.
(PRWEB) February 13, 2014
New research connecting lack of sleep with obesity and obesity-related illnesses is causing the medical community to rethink some of its earlier positions about childhood obesity. Children's Obesity Fund cofounders Dr. Michael Omidi and Julian Omidi believe this is important news to consider as we all search for ways to combat the childhood obesity epidemic.
"We know that poor eating habits – eating sugary and fatty processed foods and few whole grains and vegetables – are causing a global obesity crisis, but the sleep factor wasn't really considered," says Dr. Michael Omidi, cofounder of the Children's Obesity Fund. "In order to successfully raise healthy and happy kids, parents should really take a look at all of their children's habits, obligations and recreations to ensure they get enough sleep for their growth, health and well-being."
The clinical study conducted by researchers at Temple University, and reported by the Daily News on November 5th, 2013, found that children who sleep longer eat fewer calories than they do when they are sleep deprived. The researchers studied 37 children between the ages of 8-11 years and allowed them to sleep normally for one week. The following week the children's sleep was interrupted sporadically. The third week, the children's sleep was markedly reduced. (http://www.nydailynews.com/life-style/health/early-bedtime-prevent-child-obesity-study-article-1.1507098)
The research concluded that children ate, on average, 134 fewer calories per day while they slept their normal amount than they did when their sleep was restricted. The subjects also lost an average of one half of a pound of body weight during their normal, substantial sleep schedule.
Recent studies published in pediatric journals have also found a causal relationship between lack of sleep in teenagers and obesity. Lack of sleep causes an increase in blood glucose and the stress hormone cortisol, as well as a decrease in insulin production. Additionally, lack of sleep reduces the metabolic rate, resulting in lower energy and slowed calorie burn.
Furthermore, children exposed to digital media in the form of computer screens, television and smartphones before bedtime could be inhibiting their ability to achieve restful sleep. The LED lights can trigger a neurological stimulatory response that makes it more difficult to fall asleep; the brain remains "wired," and unable to properly wind down.
Due to the suggestions from these recent studies that extensive digital media is impacting the sleep and overall health of children at large, Children's Obesity Fund is currently searching for a nonprofit organization to support that works to engage children in alternatives to digital media thus insuring the best sleep habits possible. Please email any suggestions to info(at)childresobesityfund(dot)com.
"Kids are so bombarded with electronic media – computers, video games, television – that what might be considered a relaxing pastime might actually be contributing to sleep deprivation," says Julian Omidi, cofounder of the Children's Obesity Fund. "We have to start thinking about curtailing the media exposure of children so they are getting the sleep so critical to proper, healthy development."
Co-founded by Julian Omidi and Dr. Michael Omidi, the Children's Obesity Fund (http://www.childrensobesityfund.org) hopes to help reverse the trend of rising obesity rates in America. The goal of the non-profit charity is to help people fully understand the obesity issue and its dire impacts on individuals and society as a whole -- and to use that knowledge to encourage children to grow up strong and healthy. Children's Obesity Fund partners with other organizations to educate and support parents, educators and others so that we can all work together to raise healthy, active, social, and happy children. While the organization does not accept donations, it does encourage direct contributions of money and talents to the associations featured on their website. Children's Obesity Fund is on Facebook as well as Google+, Twitter, and Pinterest.