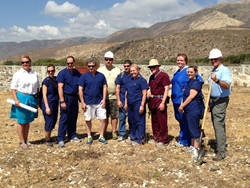 Nashville, TN (PRWEB) March 18, 2014
In 2013, LiveBeyond partnered with RegionalCare Hospital Partners, based out of Brentwood, TN, to assist with their initiatives for building a hospital in Thomazeau, Haiti. There are ten groups from various RegionalCare locations scheduled to visit Thomazeau in 2014, the first being Paris Regional Medical Center, who helped LiveBeyond CEO Dr. David Vanderpool and his wife, Laurie Vanderpool, break ground on LiveBeyond's new hospital on February 12th, 2014.
This is an exciting time for the people of Thomazeau, as the hospital will be the first fully functional surgical hospital and medical clinic available to this region. Built on LiveBeyond's 64-acre base in Thomazeau, the hospital will offer out-patient services, a three-suite surgical wing and a forty-bed in-patient hospital for long-term extended care. Not only will RegionalCare be an integrated part of the hospital's development model, they will be providing a majority of the much needed medical equipment, supplies and beds.
According to WFP.org, over 55% of the population lives below the poverty rate of $1.00 a day and over 45% have no access to health care. With RegionalCare's provisions, LiveBeyond intends to drastically reduce those numbers in Thomazeau. RegionalCare believes "the hospital is one of a community's most valuable assets." They place a great deal of emphasis on serving and improving healthcare in non-urban markets. With their community-focused staff visiting the LiveBeyond base throughout 2014, they will experience serving one of the poorest regions in the world.
RegionalCare Hospital Partners Vice President of Communications, Jeff Atwood, says, "We are honored to come alongside LiveBeyond and the Vanderpools as they serve the people of Thomazeau. The work in Haiti lines up directly with the purpose of our company and we look forward to being part of a healthier Haiti."
RegionalCare Hospital Partners was founded in 2009. With a commitment to high quality care and compassionate service, RegionalCare has quickly grown to an eight-hospital system. More information can be found at http://www.regionalcare.net.
LiveBeyond is a 501(c)(3) organization that began as Mobile Medical Disaster Relief (MMDR) in 2005 in response to Hurricane Katrina. Founder and CEO Dr. David Vanderpool, a trauma surgeon from Brentwood, TN, visited Haiti in 2010, being one of the first medical personnel to respond to the earthquake that killed thousands of Haitians. It was during that time Dr. Vanderpool decided to shift his mission to have a primary focus on Haiti, thus changing to organization to "LiveBeyond." While there are numerous NGOs (non-government organizations) throughout Haiti, LiveBeyond is unique in that it does not focus on a single aspect of need. Instead, LiveBeyond encompasses health care, maternal health care, education development, agriculture, clean water, food & nutrition, agriculture, community outreach, economic development & sustainability and orphan care. Each of these programs is operated within the context of Christianity.
Since LiveBeyond's move to Haiti in 2010, the Vanderpools have either set up medical clinics on their property or they drive to remote areas, seeing an average of 250 patients a day during mission volunteer weeks. There is no real way to "advertise" clinic days, but the residents always know when and where they will take place. It is not uncommon for nearly a hundred people to be waiting for clinic to open long before it is time. People walk for miles in the Haitian sun to visit LiveBeyond's clinics, hoping the volunteering doctors and nurses can treat their undernourished newborns, scabies-infested toddlers or perhaps they seek a cool drink of water, free bag of beans & rice and prayer. Many suffer from various skin conditions, stomach conditions, dehydration and malnutrition.
The new hospital is expected to service the 200,000 residents of the Thomazeau region and some from the country's capital, Port au Prince. LiveBeyond seeks to employ Haitian doctors and nurses, providing long-term jobs, sustainability and economic growth. Together, LiveBeyond and RegionalCare will improve these Haitian's quality of life, life expectancy and overall sense of community.