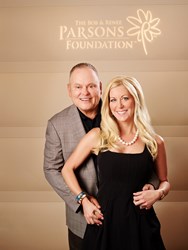 "Hope is not something that should be reserved for a particular need or group. There are many causes out there which receive less public support because of the issues they address … these are the projects we seek out." -Bob Parsons
SCOTTSDALE, AZ (PRWEB) February 14, 2014
Founded in February of 2012, The Bob & Renee Parsons Foundation has made it its mission to drive positive change on both a local and international level. To date the Foundation has pledged more than $34 million in critical funds, primarily in the greater Phoenix area, to non-profit organizations which are successfully addressing issues associated with at-risk youth, homelessness, education, veterans' needs, and medical care.
"Hope is not something that should be reserved for a particular need or group," said Bob Parsons. "There are many causes out there which receive less public support because of the issues they address … these are the projects we seek out."
Through their grant-making, Bob and Renee Parsons, in partnership with more than 40 charitable organizations, have helped inspire hope for tens of thousands. During 2013 alone the Foundation pledged nearly $21 million.
Major gifts of $1 million or more pledged during 2013 included:
$4,265,000 Southwest Center for HIV/AIDS
$4,100,000 Semper Fi Fund
$2,035,000 Muhammad Ali Parkinson Center
$1,633,000 Hope for Haiti
$1,540,000 Phoenix Children's Hospital
$1,511,000 Make-A-Wish Arizona
$1,000,000 University of Baltimore
"This year was a great year for Bob and me to revisit and strengthen our commitment to those organizations we support," said Renee Parsons. "We were also able, through the appointment of an executive director for the Foundation, to research and build relationships with new organizations which are successfully 'dealing in hope' and making a difference."
Grants to organizations for renewed commitments in 2013 totaled $16.3 million.
New beneficiaries with grant awards greater than $50,000 in 2013 included:
$850,000 Crisis Nursery
$750,000 Boys & Girls Clubs of Metro Phoenix
$600,000 Maggie's Place
$500,000 JDRF
$250,000 Mission of Mercy
$225,000 The AZ We Want Institute
$200,000 Child Crisis Center
$189,000 W.M. Keck Observatory
$108,000 CAF America (Andrea Bocelli Foundation)
$100,000 The 100 Club of Arizona
$100,000 Joe Foss Institute
$58,000 Elevate Phoenix
In December of 2013, less than two years after the Foundation was established, Bob and Renee Parsons reinforced their commitment to philanthropy by publicly accepting an invitation to join The Giving Pledge, an initiative started by Bill and Melinda Gates and Warren Buffett. The Pledge encourages billionaires to dedicate themselves to giving away at least half their wealth to philanthropic causes of their choosing.
"Timing and luck have been in our favor and we are profoundly grateful for our good fortune," said Bob Parsons. "We intend to donate at least half of our wealth – and likely much more – to non-profits which are making a difference and inspiring hope for the American Dream."
About The Bob & Renee Parsons Foundation
The Bob & Renee Parsons Foundation inspires hope by providing critical funding at critical times to communities striving to make a difference. The Foundation primarily focuses on issues in the greater Phoenix area. The Bob & Renee Parsons Foundation believes every person is entitled to an education, good nutrition, medical care, a stress-free, happy environment and the hope that they too, will share in the American Dream. The Foundation provides funding to non-profit organizations that are successfully addressing these essential needs. The Bob & Renee Parsons Foundation is also committed to the children of Haiti, helping to grow and improve schools, medical services and overall well-being for communities in rural Haiti through the Hope for Haiti organization.