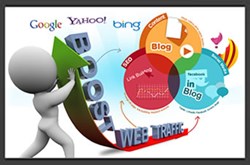 "Always give people more than what they expect to get." - Nelson Boswell.
Memphis, TN (PRWEB) February 17, 2014
Code With Power, previously a private online marketing firm, has recently gone public and is very excited to announce that they will be taking on new clients! Their newest office location is at 8151 Misty Meadows Ln", in Memphis, Tennessee and their emergency 24-hour telephone number is 901-237-7119.
Code With Power is an online marketing firm dedicated to creating custom websites and maintaining them for their clients via methods such as PPC Advertising, SEO, Social Media Marketing, and Website Design. In today's world, online marketing is a necessity for a successful business. More traffic to your website will only increase the visibility of your company, which is key in advertisement. However, Code With Power wants to work with each client on a one-on-one basis. Customization is the ultimate way to show off the personality of your business in exactly the way you want to be seen. Also, customer service is a guarantee with CWP. They strive to give you the experience you deserve.
At Code With Power, they truly care about their customers and it shows. They realize that their business will only succeed if yours does and they maintain their customer service throughout the entire process. They will work hard to get you exactly what you want. Contact them today with any questions and learn how your company can benefit from hiring an online marketing expert.