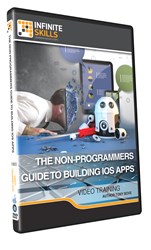 Learn the Non-Programmers Guide to Building iOS Apps at your own pace.
(PRWEB) February 15, 2014
Software training firm Infinite Skills Inc. this week introduced its "Non-Programmers Guide to Building iOS Apps," a beginning-level course providing an introduction to the iOS app development process, and demonstrating how pre-written code can be used and augmented to design a custom app.
The Apple App Store offers a unique business opportunity for both innovative developers and businesses to make services available through apps.
Infinite Skills' "Non-Programmers Guide to Building iOS Apps" is designed to provide an entry way into the development process for new developers, business owners who need to make services available on the App Store, or potential developers looking to learn more about the process.
The Non-Programmers Guide to Building iOS Apps Video Tutorial - Streaming
Course author Tony Bove is an accomplished technical writer and currently the manager of publishing and training at Deem, a high-tech company with apps for business travel. After authoring more than two dozen technology training books, including iPod & iTunes For Dummies, iPad Application Development For Dummies, and Just Say No To Microsoft, Bove published a help and how-to guide, Tony's Tips, as an iOS app.
Bove begins by providing all the information you need to become a developer, explaining Apple's development center, how to register with the developer program, and how to download Apple's XCode.
Bove then provides a tour of XCode. Working with a basic XCode project, Bove demonstrates how to navigate the UI and use essential XCode tools such as the text editor, documentation and preferences, and the app simulator.
The course then dives into Objective-C, explaining its basic set up of objects and classes, and how to use frameworks and design patterns.
From there, the course covers all phases of the app, explaining the overall app lifecycle, and then looking at its constituent parts, exploring the interface controls, animating the main view, working with preferences and interface objects, and finally preparing your app for distribution.
"We can simplify the app development process down to three steps," Bove explains. "First you design the interface, then you write code in Objective-C, and then you build, run, and test your app."
"Steps one and three can be done without learning Objective-C. If you want to write a program, of course you'll have to learn that language, but here we will work with provided code, and you can simply follow along."
Free demo videos and a full list of course contents can be found on the The Non-Programmers Guide to Building iOS Apps training page of the Infinite Skills website:
http://www.infiniteskills.com/training/the-non-programmers-guide-to-building-ios-apps.html
Infinite Skills offers The Non-Programmers Guide to Building iOS Apps Training Video either as a DVD or a direct download from the company website at a retail price of $49.95. Though the compatibility of programs varies, all Infinite Skills titles and formats are compatible with both Mac and Windows operating systems, and shipping is available around the globe. Additionally, Infinite Skills tutorials are supported by project files which correspond to examples in the videos.
About Infinite Skills Inc.
A leader in the field of software training, Infinite Skills designs its courses on a task-oriented model, teaching complex skills by providing hands-on examples and guiding users as they carry out essential functions. Infinite Skills offers a wide range of software titles available as DVDs, digital downloads, and in iPad editions. Infinite Skills now offers a subscription service, providing access to all its training content for a monthly fee, keeping with company's aim of delivering professional training to customers anywhere they want to learn.