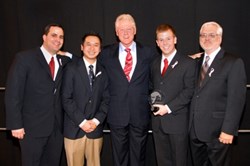 Raleigh, NC (PRWEB) February 13, 2014
Stop Hunger Now and NC State's Center for Student Leadership and Public Service (CSLEPS) announce the winner of the 2014 William Jefferson Clinton Hunger Leadership Award. Auburn University senior, Azeem Ahmed, has received the honor, presented to only one university student worldwide each year. Named in honor of President Bill Clinton for his commitment to humanitarian causes, the award recognizes outstanding leadership in the movement to end hunger.
The award will be presented at the Universities Fighting World Hunger Summit at Auburn University on March 1. Ahmed was selected from the nine applicants for his work in the fight against hunger and because of his demonstrated promise for continued engagement in the issue. His credits include work with the World Food Programme in Egypt and the International Center for Diarrheal Disease Research in Bangladesh. At Auburn he has rejuvenated the Campus Kitchen Project and is the outgoing president of the Committee of 19, the competitively selected leadership team that leads the campus efforts to end hunger.
"I'm honored to be named this year's recipient," said Ahmed, who will graduate in August with a major in finance and a minor in sustainability. "I am thankful to my family, friends, mentors and professors ... for their years of support, and for their commitment to helping students make our world a better place."
President Clinton presented the first award to NC State student John Coggin as part of the Millennium Series at North Carolina State University on January 26, 2009.
Jan Rivero, University Relations Director for Stop Hunger Now, and Amanda Itliong, Director of the Center for Student Leadership, Ethics and Public Service at NC State University will be on hand to present the award.
The Universities Fighting World Hunger Summit is held each winter and brings together students, faculty and administrators, for the purpose of advancing the academic engagement in ending hunger and creating a movement towards sustainable human development.
For more information please contact Jan Rivero, at 919-225-7130.
For more than 15 years, Stop Hunger Now has been creating a movement to end hunger. More than 100,000,000 meals have been packaged and distributed along with other aid to 65 countries impacting millions of lives. The organization is driven by a mission to end hunger in our lifetime by providing food and life-saving aid to the world's most vulnerable and by creating a global commitment to mobilize the necessary resources.
The Stop Hunger Now meal packaging program was created to give dedicated individuals the opportunity to participate in a hands-on international hunger relief program and to become educated, engaged advocates for the world's poor and hungry. In 2013, Stop Hunger Now packaged 38.6 million meals in the U.S. and International Affiliates packaged an additional 3.3 million meals.
In its efforts to respond to emergency needs around the world Stop Hunger Now receives and distributes significant donations of in-kind aid. These donations are large quantities of food, medicines, medical supplies and other such items as may be of use in fighting hunger and providing relief in a crisis.
As our communities change, so too does the demand for socially responsible leaders prepared to meet the challenges facing our world today. NC State's Center for Student Leadership, Ethics and Public Service (CSLEPS) provides students leadership education and opportunities to address social justice issues. Founded in 1998, CSLEPS offers more than 150 programs that embody the value of leadership. service. responsible citizenship and ethics in order to empower students to effect positive change in North Carolina and beyond. For more information, contact Heather Green at (919) 515-7112.