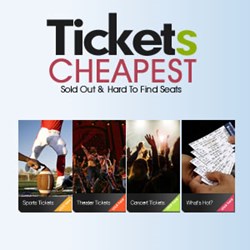 No matter if personal favorite is Luke Bryan, Jason Aldean, Florida Georgia Line, Zac Brown or King George Strait, country music fans should enjoy all of the great performances and save money by purchasing tickets from Tickets-Cheapest.com online.
Cleveland, OH (PRWEB) February 14, 2014
Country music concert tickets going on sale this weekend feature Jason Aldean shows in Cleveland, Altlanta, Morrison CO and Orange Beach AL, the Luke Bryan Chicago concert at Soldier Field August 31, and two Zac Brown Band Lake Tahoe shows.
Jason Aldean fans and others who just enjoy country music know Jason Aldean best for tunes like My Kinda Party, Dirt Road Anthem, She's Country, Big Green Tractor, Hicktown and Don't You Wanna Stay recorded with Kelly Clarkson, but in total his recordings total 16 singles and 5 albums. Georgia born, Jason Aldean began his country music career in 2005 and continues to release new material and delight live concert audiences. Those attending the Jason Aldean concerts on this latest tour, called the Night Train Tour, will hear a few songs from his album called Night train including Take A Little Ride and The Only Way I Know. For an idea of what you might hear at these country music concerts take a look at our probable Jason Aldean tour set list.
Luke Bryan's notoriety as a country music artist seems to just keep on rising. After hits such as I Don't Want This Night To End, Drunk On You and The Only Way I Know, Luke Bryan hopes to launch more singles to the top of the charts from his new album called Crash My Party. The new Luke Bryan song, also called Crash My Party, already has fans excited. While the Luke Bryan tour will surely feature many of his new songs, those attending will likely hear some old favorites too. Based on previous concerts, check out the probable Luke Bryan set list at LukeBryanConcerts.com online.
In 2014, the Zac Brown Band concerts mark another barn-storming tour of the nation. Formed in Georgia by singer-songwriter Zac Brown in 2002, the band became one of the country's true supergroups. Band members include Coy Bowles on guitar and keyboard, John Driskell Hopkins on base, Jimmy De Martini on fiddle, and Chris Fryar on drums. The band's unique fusion of country, folk, and southern rock evolved with the more recent additions of Clay Cook on keyboard, steel guitar, and mandolin, and Daniel de los Reyes on percussion. Critically acclaimed, their 2012 album "Uncaged" garnered a Grammy for best country album of the year.
In addition to their own concerts, fans can catch both Jason Aldean and Luke Bryan at the iHeart Music Festival in Austin and the Bayou Country Superfest in Baton Rouge.
Tickets-Cheapest.com continues to beat rivals like Stubhub for cheap concert tickets for upcoming concerts, plays, and shows including hundreds of events, based on recent comparison surveys. The newest round of contests between 25 competitors and Tickets-Cheapest.com once again proved Tickets-Cheapest.com beat them all for total cost of tickets and fees.
No matter if one's personal favorite is Luke Bryan, Jason Aldean, Florida Georgia Line, Zac Brown or a King George Strait concert, country music fans should enjoy all of the great performances and save money by purchasing tickets from Tickets-Cheapest.com online. Find the right concert tickets online or by phone at 855 805 5266 for professional personal assistance.
About Financial Firebird and Tickets Cheapest
The site to purchase cheap concert tickets online and its sister sites, including the site to purchase New York Broadway musical tickets or tickets for Broadway tours, are affiliated with the Financial Firebird Corporation Travel Group. Financial Firebird Corporation, established in 2000 and a proud BBB member, provides unbiased consumer information particularly involving personal unsecured debt or mortgages, software and marketing services. These sites for consumers to buy tickets online operate in the resale market and maintain no relationship with the venues or performers. The resale ticket market allows consumers access to popular events once the box office has sold out or to buy premium seats when the venue no longer offers any inventory. Within the group of these secondary market ticket services the Financial Firebird owned ticket sites offer lower prices than competitors. Find the sites at JasonAldeanConcerts.com, LukeBryanConcerts.com, ZacBrownBandConcerts.com and Tickets-Cheapest.com.