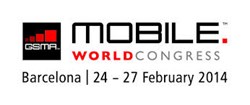 Sunnyvale, CA (PRWEB) February 13, 2014
SOLiD, a wireless infrastructure company, is exhibiting at Mobile World Congress 2014.
Who: SOLiD
What: Mobile World Congress, Booth Number: 7D79
When: February 24-27, 2014
Where: Barcelona, Spain
Why: To showcase RF Amplifier and Optical Transport solutions that expand wireless coverage and capacity
To learn more or schedule an on-site meeting, please contact SOLiD.
About SOLiD
SOLiD (http://www.solid.com) is a publicly-traded global RF amplification and optical network transport solutions company that enables indoor and outdoor cellular, public-safety and Wi-Fi communications at some of the best-known and most challenging venues. SOLiD's solutions can be found in leading hospitals; Olympic, professional, and college sports venues; government, university and Fortune 500 corporate buildings and campuses; international airports and metropolitan subways; and other high-profile sites. SOLiD's distributed antenna system (DAS), small cell backhaul and passive optical LAN (POL) portfolio addresses current and future network densification requirements.