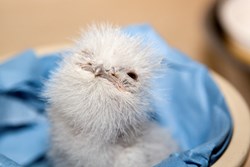 (PRWEB) February 13, 2014
Denver Zoo is thrilled to welcome what is believed to be the first tawny frogmouth chick to be successfully reared at the zoo. The chick, named Kermit, whose gender is still not known, arrived on January 27. Guests may be lucky and catch a glimpse of the new chick in its home of Bird World, presented by FlyFrontier.com, as it grows and becomes visible as it is brooded by its parents. Zookeepers monitor the chick's weight closely each morning and supplementally feed it as needed.
Zookeepers say the species is somewhat difficult to breed and over the years they struggled with problems such as finding compatible pairs or infertility. Two birds hatched at Denver Zoo in 1996, but they passed away less than two days after hatching.
Kermit is the first chick for both father, Nangkita (Nang-kee-tah), and mother, Adelaide. Nangkita hatched at Seattle's Woodland Park Zoo in June 2009 and came to Denver Zoo in January 2010. Adelaide hatched at Chicago's Brookfield Zoo in July 2012 and arrived at Denver Zoo a year later. The two were paired under recommendation of the Association of Zoos and Aquariums' (AZA) Species Survival Plan (SSP), which ensures healthy populations and genetic diversity among zoo animals. Fortunately, the couple has proved to be an excellent match.
As their name indicates, tawny frogmouths are known for their wide frog-like mouths, which they use to catch insects and other small animals. They are sometimes mistaken for owls as they have very similar body types, but are actually more closely related to birds like whippoorwills and nightjars. Tawny frogmouths are also masters of disguise. Their beige and brown feathers remarkably resemble the tree branches in which they roost. When they feel threatened they sit perfectly still and rely on their camouflage to hide from predators.
Tawny frogmouths inhabit forests and open woodlands in Australia and Tasmania. Scientists are not sure how many tawny frogmouths exist in the wild. Their greatest threats come from being hit by cars while feeding and exposure to pesticides.
About Denver Zoo: Denver Zoo is home to 4,000 animals representing more than 600 species and is accredited by the Association of Zoos and Aquariums (AZA). AZA accreditation assures the highest standards of animal care.
A leader in environmental action, Denver Zoo is dedicated to ensuring the safety of the environment in support of all species and is the first U.S. zoo to receive ISO 14001 certification for the entire facility and operations. This international certification ensures the zoo is attaining the highest environmental standards.
Since 1996, Denver Zoo has participated in 594 conservation projects in 62 countries on all seven continents. In 2012 alone, Denver Zoo participated in 98 projects in 18 countries and more than $1 million in funds was spent by the zoo in support of animal conservation in the field.
###