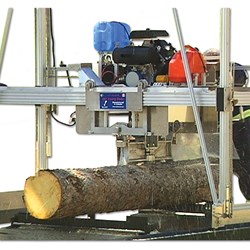 The D&L sawmill swings a full 180 degrees, twice what other mills offer and will double cut up to 20 inches wide without removing the saw guards or lifting the head off of the rails.
Woodland, CA (PRWEB) February 14, 2014
Bailey's, a leading forest industry retailer, and Canadian manufacturer D&L Timber Technologies joined forces making Bailey's the worldwide distributor for D&L's 180-degree swing blade portable sawmills.
The partnership will strengthen the Bailey's brand in Canada and improve the marketing and availability of D&L sawmills in the U.S. and around the world.
D&L President Lindsay Flett said the new deal draws on the strengths of both companies.
"It's a win-win situation. It creates a marketing arm for us and now Bailey's has a manufacturing arm," Flett said. Along with the swing blade portable sawmills, Flett said other joint projects are being planned for the companies.
Bailey's owner and CEO Nik Bailey pointed out several advantages of D&L's 180-degree swing blade sawmill design and noted the fact that it's manufactured in North America.
"Previously we've sold sawmills that were made overseas and it was difficult to manage our inventory because the shipping times are so long," Bailey explained. The long distance could also make customer service difficult.
"Located in British Columbia, D&L is just two to three days shipping from us and that's going to be a big benefit for our customers," he added.
The D&L swing blade sawmill has features unavailable in other portable mills, Flett said. These include the ability to:

Swing a full 180 degrees, twice what other mills offer,
Make double cuts up to 20 inches wide without removing the saw guards or lifting the head off of the rails,
Deliver eight-sided cants without turning the log,
The standard mill cuts logs up to 21 feet long, but cutting length is unlimited,
Deliver a smooth cut without the waviness band saws create,
Cut large beams with no turning,
Cut from either side of the log to boost operator productivity,
Easily sharpen the blade while it remains on the mill,
Easily change saw blade teeth in the field to reduce downtime, and
Double cut without moving any guards.
Bailey said the D&L product is a "little more of a production mill" than what his company has previously offered and this should be a good match for the demands of professional loggers.
Both Bailey's and D&L Timber Technologies are companies that have been family businesses for several generations and each has its origins in logging country. Flett traces D&L back to his grandfather in 1948. Nik's father worked in the woods of Northern California before founding Bailey's in 1975.
Additionally, Bailey and Flett said that those similar roots give their companies a common approach and commitment to customer service.
"They're small town people and we're small town people so we agree on how our customers should be treated," Bailey said.
D&L Timber Technologies' administrative and manufacturing headquarters is located in Lac La Hache, British Columbia. The company manufactures a variety of saw mills and other milling equipment. Bailey's operation is based in Woodland, California and sells a wide range of logging, forestry, landscaping and outdoor products through its catalogs and website.
###