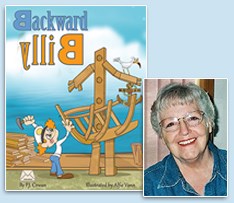 PJ is known as the "Christmas Book Lady" because she donates her books to homeless shelters and childcare's organizations at Christmastime.
King City, OR (PRWEB) February 17, 2014
Pricilla, who writes as PJ, Cowan was born in the Colorado Rockies during the Depression. She grew up listening to stories made up by her mother, and she in turn made up stories for her children. In 2008 PJ published her first book, "Michael O'Brien and the Magic Hat." She wrote it for her great-grandchildren but decided to share her stories with children who are growing up in circumstances not unlike those of the Depression years.
Thirty-three titles later, PJ is still sharing, and seven of her books have been translated into Spanish. PJ is well known in the U.S. as the "Christmas Book Lady" because she donates her books to homeless shelters and childcare organizations in Oregon, Utah, California, Colorado, Kansas, Arkansas, North Dakota, Missouri and Texas. Donating since 2009, to date PJ has donated 11,500 of her books.
PJ's newest book, "Backward Billy," is a rhyming story about a boy who fails at a task the first time but succeeds the second time after following advice from his dad and learning to read instructions. The rhyme encourages readers to have faith in the task, read the instructions and succeed, no matter what it is they want to accomplish. The parents' page addresses dyslexia.
Barbara Sherman of the King City Regal Courier in Oregon refers to PJ as the "Grandma Moses of children's books," and well-known author L.K. Gardner-Griffie described her stories as "a delightful read."
Her stories contain lessons for the reader as they touch on subjects such as choosing friends, cherishing family, discovering beauty in everything and everyone around you, accepting people as they are, and working to achieve your dreams. Pages at the back of the books contain information about the subject of the story. Later books provide a parents' page lesson, such as word games for family night and encouraging your child to follow his or her dream.
PJ believes that the illustrations in her books are the most-important element when it comes to capturing the attention of a young reader. On an "About" page at the end of the book, PJ gives credit to the artist by including a picture, a web address and a short biography.
Writing for children is PJ's passion, and she does it often and does it well. Articles and reviews may be found on line and on PJ's website, http://www.storiesbypj.com, and on her Wikipedia page.