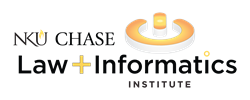 The program will delve far beyond the headlines to provide insights for companies and regulators.
Highland Heights, KY (PRWEB) February 17, 2014
Northern Kentucky University Chase College of Law will host the third annual Law + Informatics Symposium on February 28, 2014. The focus of the conference is to provide an interdisciplinary review of issues involving business and industry responses to cyber threats from foreign governments, terrorists, domestic surveillance and corporate espionage. The symposium will emphasize the role of the NIST Cybersecurity Framework and industries providing critical infrastructure, and the role of corporate leadership in addressing issues of domestic and international surveillance.
Speakers from Hungary, Spain, Switzerland and leading institutions across the United States, including FERC and Virginia Tech, will emphasize the role cybersecurity plays in industries that provide critical infrastructure. Panels will also address the role of corporate leadership regarding issues of cybersecurity and surveillance. "The symposium brings industry and academics together to address some of the most topical and critical issues facing our economy today," said Jon Garon, director of the NKU Chase Law + Informatics Institute. "The program will delve far beyond the headlines to provide insights for companies and regulators."
The symposium will present four panels:

Industry's Responsibility to Maintain the Critical Infrastructure
This panel focuses on the steps government and industry have taken to address concerns about the effects of large-scale cyber-attacks and natural disasters on U.S. critical infrastructure, what steps still need to be taken, and how existing limitations impact the ability of industry and government to fully respond to these risks.

The Criticality of Data's Infrastructure: Privacy, Security, Confidentiality, and Resilience
This panel will address how various risks to data, including those created by governmental agencies and business relationships, may affect the duty to protect and maintain collected information.

The Cybersecurity Landscape
Governments, educational institutions, trade organizations and businesses are striving to establish the next generation of protocols, standards and best practices to manage cyber risks and make the digital infrastructure more secure and reliable. This panel will focus on the evolution of these organizations and their strategies, looking to the past to determine how these issues have been previously addressed, and to the future to address the critical path for improved infrastructure and a more secure digital landscape.

Lessons and Takeaways – a Roundtable
Building on the symposium presentations, this panel will engage speakers and audience members to discuss potential strategies and obligations for business leaders, government agencies, and the academic community.
In conjunction with the symposium, the Law + Informatics Society, a student group, will host the Law + Informatics Student Scholarship Showcase on Cyber Defense Strategies for Business and Industry on February 27, 2014. Four law review students will present their student notes on cyber defense strategies and responsibilities for business and industry. Some of the papers being presented will be published in forthcoming issues of the Northern Kentucky Law Review.
The NKU Chase Law + Informatics Institute provides critical interdisciplinary research regarding law, regulation and industry practice as it is applied across complex information systems, emerging technology and all areas of law. While not limited to any legal field, the Institute emphasizes intellectual property law, privacy law, business and securities law, international law, and evidentiary rules because the creation, acquisition, aggregation, security, manipulation and exploitation of data have the largest legal and societal consequences in these fields.
Since 1893, NKU Chase College of Law has educated individuals who make immediate contributions to the legal profession and to their communities. With a collegial, student-centered environment in full-time and part-time programs, Chase provides an intellectually rigorous education in legal theory and professional skills; offers practical training through its curricular offerings, co-curricular programs and specialized centers; and instills the ideals of ethics, leadership, and public engagement.
To register and to learn more about the program, see Symposium 2014.
This release is available online.
###