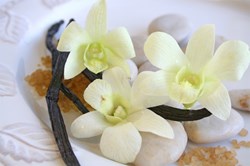 San Francisco, CA (PRWEB) February 15, 2014
Zion Health's Moisture Intense Vegan Lotion with sense-stimulating natural vanilla is available at Rainbow Grocery located on 1745 Folsom St. in San Francisco, CA. This unique, natural mineral lotion combines natural vanilla essential oil and healing clay with botanical infusions of lavender and chamomile and skin nourishing almond and sunflower oils.
Natural vanilla bean has been used for its aphrodisiac and cognitive enhancing abilities for centuries to promote mental clarity and pleasure. According to Robert Bentley and Henry Trimen, botanist authors of Medicinal Plants, "vanilla is an aromatic stimulant, with a tendency towards the nervous system. It has also been regarded as an aphrodisiac." The anti-inflammatory vanilloids in vanilla are also known to help reduce pain and promote a sense of pleasurable relief.
Adama Moisture Intense lotion contains nourishing minerals from a unique type of clay called Calcium Montmorillonite. Montmorillonite is commonly sold as a nutrient supplement providing more than 60 trace minerals that are well known for its anti-aging benefits.
Rainbow Grocery is a longtime community favorite of residents in the Mission District of San Francisco. Since 1975, Rainbow Grocery has provided local, organic, affordable vegetarian food products and became a worker-owned community COOP in 1993. The COOP strives to provide their customers with outstanding service, offer low-cost health care products and resources, and encourage sustainable, environmentally-friendly programs like public transportation and citywide recycling.
Healing clay body care products from Zion Health are vegan, naturally sourced and eco-friendly. Zion Health's natural ancient clay products are now available at Rainbow Grocery located on 1745 Folsom Street in San Francisco and select Whole Food Markets in California, Florida and Massachusetts. Zion provides its consumers with pure skin and body care products that are 100% vegan, free of parabens and aluminum and formulated using certified organic ingredients whenever possible.