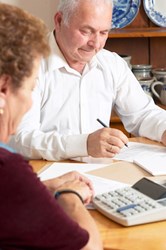 Policymakers are reluctant to raise taxes and cut corporate subsidies in order to properly fund pensions when their campaign donors demand the opposite.
New York, NY (PRWEB) February 14, 2014
Since the beginning of the Great Recession, politicians and journalists alike have talked about a public pension crisis sweeping the nation. A weak economy has forced states like Illinois and Michigan to cut their budgets and scale back services, and there is growing pressure on state and local governments to underfund or even restructure defined-benefit pension plans. But are greedy pensioners really the problem? In a new paper, "The Underbelly of the Public Pension Crisis: How Big Money Keeps State and Local Governments from Fulfilling Their Obligations," Roosevelt Institute Senior Fellow Robert Johnson digs into the facts behind the pension crisis and the policy reforms needed to maintain its promise to public workers. Johnson will present the paper at a conference at the CUNY Graduate Center's Martin E. Segal Theatre Center on Tuesday, February 25. The conference will also include Nobel laureate Joseph Stiglitz and former New York Lieutenant Governor Richard Ravitch, among others.
Johnson writes that the evidence shows funding shortfalls for public pensions are not due to overcompensation of workers. Moreover, many state and local governments are fully capable of meeting existing pension obligations if they choose to do so. He argues that doing so is important in order to preserve the quality of the public workforce and the essential services it provides. However, he finds that campaign finance incentives often encourage elected officials to make policy choices that create shortfalls.
"Policymakers are reluctant to raise taxes and cut corporate subsidies in order to properly fund pensions when their campaign donors demand the opposite," said Johnson. "What's needed are reforms that eliminate structural incentives to underfund pensions, which includes limiting the influence of big donors and promoting greater transparency in the way the financial sector manages public pension assets."
The February 25 conference, which will run from 9 a.m. to 12:30 p.m. EST, will include two discussion panels. The first, moderated by economist Norton Garfinkle, will focus on the origins of the pension crisis and its regional impact and will feature Robert Johnson along with Dean Baker of the Center for Economic Policy Research and Lisa Cook of Michigan State University. The second, featuring Roosevelt Institute Senior Fellow and Chief Economist Joseph Stiglitz and Roosevelt Institute Senior Fellow Thomas Ferguson, will be moderated by Time editor and columnist Rana Foroohar and will focus on broken politics and the choice not to honor pension obligations. Lieutenant Governor Richard Ravitch will deliver a keynote address.
Robert Johnson is a Senior Fellow at the Roosevelt Institute and President of the Institute for New Economic Thinking. He is the former Chief Economist for the U.S. Senate Banking Committee and served on the United Nations Commission of Experts on International Monetary Reform.
Click here to RSVP for the conference. For more information on the conference or the paper, please contact Tim Price.
About the Roosevelt Institute
The Roosevelt Institute is an ideas and leadership organization founded in the belief that America should offer opportunity to all. To develop a new social contract for the 21st century, we advance the work of progressive economists and social policy thinkers and support an emerging generation of leaders as they design solutions to the nation's most pressing issues.
# # #