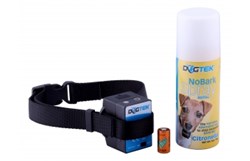 I haven't been able to get my dog to stop barking with anything else, but this has done the trick. It's safe for her and effective.
Clearwater, FL (PRWEB) February 14, 2014
DOGTEK, Inc. is pleased to announce the updated spring line of dog training products that can help condition even the most willful pet. Pet owners are often looking for a humane way to correct bad dog behavior like barking. DOGTEK has several new items that can help pet owners properly train their pet, including the Sonic Birdhouse and the NoBark Spray collar.
DOGTEK offers a whole line of dog training products including the Sonic Birdhouse which emits an ultrasonic sound, to deter excessive and unwanted barking. It can detect barking from up to 50 feet away thanks to the use of 3 internal microphones. It is durable and completely waterproof so it's perfect for outdoor use. It has 4 levels of operation, including a test mode and operates on a standard 9v battery.
The Sonic Birdhouse can be used to stop unwanted barking from your neighbor's dog. Richard, one reviewer, said, "We have a neighbor who owns a very large dog that is kept outdoors. It barks from very early in the morning and into the evening, causing many other neighbor dogs to join in. When I received the DOGTEK Sonic Birdhouse I set it out immediately. The very next day we thought that the dog must be inside or somewhere else. To our great surprise we saw him quietly running around his yard. A side benefit is that our dogs have stopped unnecessary barking also. We made a great investment in our family's quality of life."
Another option to train a barking dog is the new DOGTEK NoBark Spray collar. The NoBark Spray collar is a safe, humane and effective way to deter excessive barking. When the dog barks, the NoBark Spray delivers a short spray of harmless citronella mist toward the dog's jaw. Completely harmless and painless, the NoBark Spray collar has been scientifically proven to be the most effective spray collar on the market. The collar does not use any static correction or beeps, so it doesn't create additional anxiety for your dog. The collar is easy to use and maintain and is adjustable to fit any dog.
A report in the American Animal Hospital Association (May-June 1996, Vol. 32) states that dog owners often prefer the citronella spray collars to other training products. The dog owners who tested these collars for the study felt the citronella spray was more effective and more humane than an e-collar, said Soraya V. Juarbe-Díaz, D.V.M., a resident in the Cornell Animal Behavior Clinic who ran the study with volunteer dog owners.
One Amazon.com reviewer said she enjoyed the scent from the spray collar. "I haven't been able to get my dog to stop barking with anything else, but this has done the trick. It's safe for her & effective. The citronella is such a pleasant smell when she does slip up that it makes her a walking air freshener."
Check out DOGTEK's other effective training tools at http://www.dogtek.com/products/bark-control/. DOGTEK® is the #1 brand of state of the art electronic Dog Training Products in North America & Europe. DOGTEK® is dedicated to bringing state of the art quality dog training products along with exceptional customer service. All DOGTEK® products are tested AND approved by veterinarians and dog training professionals. The wide experience their Research and Development Department means it can call on the latest technology and integrate unique systems. Each product is distinguished by its quality, innovation and remarkable performance.