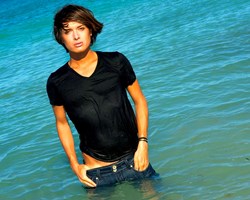 "I write every day. My songs are my sanity."
New York City, NY (PRWEB) February 13, 2014
Daniel's songs are relatable and catchy, while still maintaining musical integrity. In his new music video, "Love Me Tonight". Daniel plays his piano in the middle of an open field, and at the ocean's edge, a metaphor for loneliness and solitude. "Love Me Tonight" combines romanticism with an edgy feel, through crisp cinematography juxtaposed with emotional images, depicting the longing for love. The ballerina/cellist and the singer never cross paths, yet they are connected through their music, portraying their desire to be together. The video has a natural and organic feel, like the music, which is live piano and cello.
At the age of four, Daniel made his debut when he toured with the hit musical PBS TV and stage show, The Huggabug Club, and by age 11, Daniel formed his own band and began writing songs. He competed in the finals of Europe's XFACTOR in the Netherlands, choosing to come home to graduate from high school, focus on his music, and study in the U.S.
Daniel is a prolific songwriter, and an accomplished singer and musician with fans across the globe. His original music and lyrics reflect his personality - soulful and edgy. Depth and maturity blend with his youthful Pop/Rock style. Daniel has performed live to arena audiences, and in intimate clubs. "I love connecting with my audience. The stage is my comfort zone."