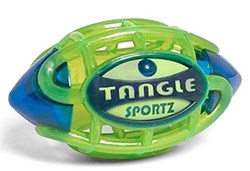 The Tangle NightBall is lighting up skies across the country!
South San Francisco, CA (PRWEB) February 15, 2014
Tangle Creations, Inc., an award-winning manufacturer of innovative playthings, announced the national launch of the Matrix™ NightBall™ Football at the upcoming American International Toy Fair® in New York City (Jacob Javits Convention Center Booth #1711). The Tangle NightBall features a revolutionary patented structural airless design that is easy to throw and easy to catch. Patented motion-activated LEDs inside the NightBall allow the ball to light up and sparkle when thrown. The faster the Tangle NightBall spins, the brighter it gets.
"After years of design and testing, the Tangle Matrix NightBall Football is now lighting up the skies of backyards and parks across the country," says Richard X Zawitz, Tangle Creations, Inc.'s CEO and Tanglemaster. "Children and adults can now go outside and play catch, even when the sun goes down," continues Zawitz. "The Matrix NightBall is the latest 'brilliant' addition to Tangle's legacy of fun and innovative products."
Football Perfection -- Light Up the Night
The Tangle Matrix NightBall Football features an innovative worldwide-patented structural design that maximizes aerodynamics while making the ball easier to catch and throw. And when it gets dark, the patented motion-sensitive ultra-bright LEDs illuminate the NightBall's unique tubular design as it sails through the night sky.
Tangle NightBall Website
https://www.tanglecreations.com/products/Details.aspx?p=1016&c=107&g=all
Tangle NightBall Demo Video
http://www.youtube.com/watch?v=ZJ_r1227D5U
About Tangle Creations, Inc.
Founded in 1981 by sculptor Richard X Zawitz, Tangle Creations is a leading manufacturer of innovative products, including toys, sporting goods, therapy products, premiums, and educational Brain Tools™. Tangle products are sold across the US and in over 40 countries worldwide. Visit the creativity of Tangle at http://www.tanglecreations.com/.
About the American International Toy Fair
Toy Fair is an annual event that is owned and operated by the Toy Industry Association (TIA). The largest toy trade show in the Western Hemisphere, the show brings together approximately 1,000 exhibiting manufacturers, distributors, importers and sales agents to showcase an estimated 150,000 toy and entertainment products to nearly 10,000 buyers from 90+ countries.
© Tangle Creations, Inc. All Rights Reserved.
Media Contact:
Nicholas Zawitz
Tangle Creations, Inc.
NY Toy Fair Booth #1711
415.269.9436
http://www.facebook.com/TangleCreations
SOURCE Tangle Creations, Inc.