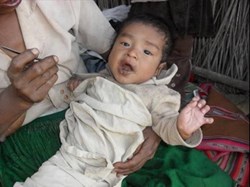 I just want to help a fellow mother successfully raise her child.
Phoenix, AZ (PRWEB) February 14, 2014
Food for the Hungry (FH) has launched its Little Ones Sponsorship opportunity that hopes to impact more than 6,000 infants, toddlers and their mothers in Bolivia.
The World Health Organization estimates that 18,000 children die every day from poverty-related causes, including malnutrition, water-borne diseases and even the common cold, with most deaths being preventable. Since 1978, FH has offered child sponsorship as one way to help prevent this suffering, now benefitting more than 49,135 children over 5 years old. With so many children under 5 dying every year, Little Ones fills the gap.
At 9 months of age, William of ToroToro, Bolivia was diagnosed with severe malnutrition, weighing only 13 pounds and measuring just 25 inches in length, well below the first percentile for his age on a typical infant growth chart. This little one got the help he needed when FH stepped in to equip his mother to help William thrive.
The Little Ones sponsorship program for children from newborn to age 5 was introduced at the IF: Gathering in Austin, Texas, last weekend, securing nearly 600 Little Ones and regular sponsors to help FH aid infants and children like William. "I just want to help a fellow mother successfully raise her child," said new sponsor Leigh Ann of Cedar Park, Texas.
The program currently focuses on nine communities in Bolivia, where as many as one in three children under the age of 2 suffer from chronic malnutrition. "We hope to see the program expand ten-fold in coming years to 6,000 child sponsorships in 90 communities, and eventually expand worldwide," Carolyn Wetzel, FH's director of health programs.
In some of these Bolivian communities, the infrastructure needed to execute the Little Ones program is already in place. In ToroToro, community leaders have used their own resources to build a space for comprehensive medical care for children under 5 years of age. These efforts have begun to help children like William recover from malnutrition and increased educational resources available to their families. "My dream is to have our community as an example for others to realize they can overcome malnutrition," said ToroToro Municipal Mayor Mr. Eliodoro Uriona.
For more information about the Little Ones child sponsorship program or to sponsor an infant or toddler in Bolivia, please visit http://www.fh.org/littleones.
Founded in 1971, Food for the Hungry provides emergency relief and long-term development programs with operations in more than 20 countries to help the world's most vulnerable people. Learn more by visiting http://www.fh.org. Social connections include http://www.facebook.com/foodforthehungry and http://www.twitter.com/food4thehungry.