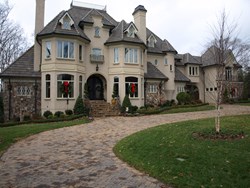 82% of surveyed agents have had potential buyers decline to look at the interior of a house due to its exterior appearance.
Charlotte, North Carolina (PRWEB) February 14, 2014
Masters Stone Group, the premier provider of stone masonry and design in Charlotte, NC, announced today that the company saw a 30% increase in exterior stone accents in 2013. According to economic data collected by the company, the key drivers for the increase were people wanting to update the style of their homes and increase the curb appeal.
"Adding stone to archways, around doorways and front steps as well as around the base of the home is most common," says Mark Correll, President of Masters Stone Group. He continued, "The cost for adding exterior accents typically ranges from $10-$20,000, making it an excellent upgrade for much less than the cost of a total remodel."
Many people choose stone as an exterior accent because of its tough, long-wearing, protective finish. Stone also has a classic aesthetic appeal that gives a home a high quality finish. It's a bonus that it is well known to increase property value. "Often the increase in home value is greater than the cost," said Correll. "On top of this, you now live in a home that is not dated by its exterior. Both practical and functional as an exterior home accent, stone is timeless. It's never out of style."
While stone can add value to your property in monetary terms and in pure enjoyment, according to Realtors® at Trulia.com, the fair market value of a home will ultimately be dependent upon many factors, including comparison with similar homes in the market area. However, "82% of surveyed agents have had potential buyers decline to look at the interior of a house due to its exterior appearance," according to the survey Real Estate Agent Community Trends (REACT). This one fact -- a desire to increase curb appeal and enhance buyer interest -- is the primary driver for the increase in exterior stone accents, followed by the desire to add timeless natural beauty to a home simply for owner enjoyment.
Areas in which Masters Stone Group specializes include: Ballantyne, South Charlotte, Myers Park, Lake Wylie, South Park, Matthews, Lake Norman and Waxhaw. "We aspire to remain the leading company for outdoor living in Charlotte," says Correll. "We are specialists in stone pavers, flagstone patios, concrete pavers, stone patios and exterior home accents– you name it, if it has to do with stone, we can get it done. Our name has become a symbol of quality, craftsmanship, and passion for stone and masonry in Charlotte. We intend to keep it that way."
About Masters Stone Group
With over 20 years' experience in the custom home building and stone masonry field, Masters Stone Group specializes in the art of selecting, designing and installing natural and manufactured stone in Charlotte, NC, and surrounding areas. Masters Stone Group is fully licensed, bonded and insured for all work completed. For more information about all types of stone masonry and the leading stonemasons in Charlotte, please call 704-968-7177. Visit the website at http://www.mastersstonegroup.com.