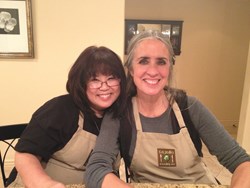 [Lajollacooks4u is] an unparalleled culinary experience with a private hands-on cooking class… dining on gourmet Californian cuisine while overlooking the majestic Pacific Ocean.
San Diego, CA (PRWEB) February 18, 2014
Lajollacooks4u, rated by Trip Advisor as one of the top attractions in La Jolla, San Diego, was selected by Edible Destinations to be the premier culinary activity for all of its San Diego-destined clients. Edible Destinations created the Magnificent Culinary Journey as its La Jolla tour, featuring Lajollacooks4u.
Edible Destinations, a worldwide culinary touring company, formulates travel itineraries for culinary enthusiasts in many popular national and international destinations. Planning a foodie adventure in the San Diego area? Edible Destinations has centered its tour in the seaside city of La Jolla, and has included the Gourmet Cooking and Dining Experience offered by Lajollacooks4u as one of its packaged activities. The package also offers a 2-day culinary option including a Farmer's Market or Foodie Tour of San DIego and a Farm-to-Table cooking class.
Edible Destinations presents the unique activity offered at Lajollacooks4u as being "an unparalleled culinary experience with a private hands-on cooking class…dining on gourmet Californian
cuisine while overlooking the majestic Pacific Ocean".
"Chef Jodi of Lajollcooks4u is one of our favorite chefs", said Jane Hoagland, Culinary Travel Specialist of Edible Destinations. "Lajollacooks4u is always a hit with our clients!"
Edible Destinations has sent many clients over the years to Lajollacooks4u and Chef Jodi's kitchen. The cooking school's clientele range from couples to team-building events, including groups celebrating special occasion all events are customized with special care in creating a fresh and seasonal menu.
Chef Jodi recently welcomed two lovely ladies, Suzanne Arnold and Carol Masuda, to Lajollacooks4u, who had arranged a culinary vacation through Edible Destinations. Both ladies were true foodies who were as passionate about cooking and food as Chef Jodi at Lajollacooks4u.
Lajollacooks4u appreciates the business that Edible Destinations brings through its partnership, and strongly encourages any traveling foodie to set up a cooking class at Lajollacooks4u by booking a tour through Edible Destinations. Whether the destination is scenic La Jolla, or one of the many locations throughout the US or world, Edible Destinations offers the best rates, recommendations, and experiences for all of their culinary destinations.
About Edible Destinations
Edible Destinations is where travelers discover their culinary inspirations through unique, worldwide cooking vacations and culinary getaways. To learn more, visit http://www.EdibleDestinations.com.
About Lajollacooks4u
Lajollacoks4u, founded in 2008, provides a unique and intimate activity for couples, corporate team-building, and any foodie looking for a cooking and culinary experience in an ideal setting overlooking the Pacific Ocean. Based in La Jolla, a suburb of San Diego, CA, Lajollacooks4u has enjoyed record growth since its inception and is ranked as a top attraction in La Jolla on the world's largest travel review site, Trip Advisor. For more information, contact Jodi Abel at jodi(at)lajollacooks4u(dot)com or phone 1-858-752-4980.
-30-