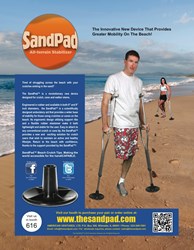 "It's an amazing device. The perfect solution for helping me stay active on the beach."
Los Angeles, CA (PRWEB) February 17, 2014
Los Angeles Abilities Expo 2014 - When above knee amputee Jerry Vasilatos visited Greece in 2003, swimming was one of the few aerobic exercises he could still perform despite his disability. Excited and anxious to visit the beautiful beaches and shorelines where he could swim freely in the ocean, he faced a major obstacle: getting across the long stretches of beach on crutches without his prosthesis. As beach crutch users know, conventional crutch tips sink deep into the sand. For beach goers using crutches or canes, getting across the sand to enjoy swimming can be a frustrating and arduous, often impossible task. In many instances, it can hinder even the most active person trying to overcome either a temporary or permanent disability and ruin vacations. Returning home to Chicago, Vasilatos searched for a solution but could find nothing available.
"I could imagine what I needed, right down to the shape and how it would attach to a crutch, but I was shocked to discover no one manufactured this simple device that would enable me greater mobility at the beach... what I described as a sand pad."
Seeing an opportunity to solve his own problem as well as that of all beach loving crutch users, Jerry approached his father Anastasios with sketches of his brainchild which would be a durable, flexible rubber crutch pad that could easily attach to conventional crutches and canes. Anastasios, an industrial designer credited with several of his own patents, took Jerry's sketches and realized them in a three-dimensional CAD environment, creating a design that provided the solution for anyone using crutches to easily navigate shifting beach sands as well as move effortlessly along shallow water shorelines.
After years of development, the father and son team's first 8" inch SandPad™ was introduced in 2011 through their company American Ventures Ltd., which also earned a patent for the unique design in November of 2013. Boasting over 500 units sold in 16 months without any major marketing or advertising, the success of the first SandPad™ design as well as enthusiastic consumer demand led to the design of a newer 6" inch version geared towards women, children and seniors, which will debut in booth 616 at the 2014 Los Angeles Abilities Expo.
"We're very excited to have received our patent and to be able to assist crutch and cane users achieve greater mobility" Jerry says. "We've received so many satisfied customer testimonials that it makes our efforts all the more worthwhile and we're thrilled at the opportunity to meet new users at the Expo."
About the SandPad™
Engineered from 70 shore hardness ethylene propylene diene Monomer (M-class) rubber, the 6" inch SandPad™ provides a wider base of stability than normal tips for those using crutches or canes on beaches or other sandy terrain. The pad's circular design supports a user's weight allowing them to walk easily across beaches without sinking into the sand. Its scientific design utilizing four support ribs and a flexible rubber elastomer make it both lightweight and stable for the user. Easy to attach to any conventional crutch or cane tip, each SandPad™ weighs .15 oz and fits ¾" to 1" inch crutch and cane tip sizes. All SandPads™ come with a lifetime guarantee.
The SandPad™ is available for purchase online through its dedicated website at thesandpad.com as well as Amazon.com. American Ventures Ltd. is also ramping up to distribute the device through medical supply stores and retail outlets for 2014 fulfillment. Facebook and Twitter pages are also online to promote the SandPad™ to the crutch and cane using community.
About the Abilities Expo
For more than 30 years, Abilities Expo has been the go-to source for the Community of people with disabilities, their families, seniors, veterans and healthcare professionals. Every event presents new technologies, new possibilities, new solutions and new opportunities to change lives.
The 2014 Los Angeles Abilities Expo will take place from February 28th through March 2nd 2014, at the Los Angeles Convention Center. Admission is free, and attendees can visit the SandPad™ inventors at booth 616 where they can also try out the pads in person, ask questions or purchase a set. A fun and interactive raffle opportunity will also be offered, where visitors can win a pair of SandPads™ by participating in a social media photo opportunity through Facebook and Twitter with booth spokesmodel Mermaid Ginger.
About American Ventures, Ltd.
Since 1995, American Ventures, Ltd. has been engaged in developing innovative industrial designs focused on offering new consumer products to enhance mobility and recreational activities.
For more information on ordering or wholesale inquiries, please visit: http://www.thesandpad.com.