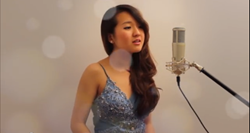 (PRWEB) February 15, 2014
Grace Lee, a New Jersey college student, has acclaimed international attention as her Youtube video received more than 2.9 million hits within the first 50 days. The 22 year old singer, who is the voice behind the "Let it Go", an OST from Disney's film, Frozen, had been spotted at an early age by major Korean entertainment agencies. At age 14, she won the first place title at the Global Audition sponsored by SM Entertainment and at age 16, once again came in first at the audition sponsored by JYP. She participated in many theater productions and national choirs starting from a very young age.
The Rutgers University pharmacy student is still in disbelief of the sudden popularity on her videos. "I was surprised by the number of hits. I really hadn't expected it. I'm so blessed for all the warmth and support and am glad many people enjoy my video." Her video was chosen by VH1 as the best Frozen "Let it Go" cover. She currently is the National Anthem singer for her college basketball team at Rutgers.
Grace is currently concentrating on obtaining her degree in pharmacy and is still pursuing a career in music as well. We hope to be able to see more of her amazing talent. Viewers can check out her videos by clicking onto her Youtube Channel http://www.youtube.com/gracefulleee or visiting her Facebook page at https://www.facebook.com/TheGraceLee.