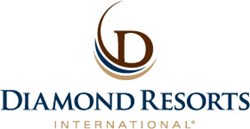 Las Vegas, NV (PRWEB) February 14, 2014
DIAMOND RESORTS INTERNATIONAL® (Diamond), a global leader in the hospitality and vacation ownership industries, announces that The Historic Powhatan Resort and Greensprings Vacation Resort in Williamsburg, VA have undergone significant renovations and refurbishments in 2013 and have plans for continued development in 2014.
As the oldest standing home in James City County, The Historic Powhatan Resort underwent an extensive $800,000 renovation managed by the Diamond Operations Management Team in 2011-2012. In 2012-2013 common area renovations included new resort-wide brick and concrete pathways, a new workout facility, renovated outdoor pool and spa area, and a renovated mini-golf course.
Future plans for renovation include a multi-year, multi-million dollar unit renovation with the installation of new kitchen cabinets and countertops, new flooring, furniture, drapes, artwork, flat screen TV's, updated bathrooms, new mattresses, new outdoor furniture and renovated outdoor landscaping. Construction has commenced and the projected completion for the first 100 units is April 2014.
For Greensprings Vacation Resort, the multi-year, multi-million dollar unit renovation, which commenced in 2012, will continue on into 2014. Renovations for this property include new flooring throughout the unit, new furniture, drapes and artwork, flat screen TV's and updated bathrooms. The goal is to complete an additional 36 units by April 2014.
According to David F. Palmer, President and Chief Executive Officer of Diamond Resorts International®, "We are in the business of delivering Vacations of a Lifetime™ to our members, owners and guests, and to accomplish this goal it is essential that we continually make enhancements and improvements to our properties worldwide. It is our hope that these property renovations will serve to also enhance the communities in which we live and work. We value our presence in the community and are proud to support and be a part of the rich history of Williamsburg."
Diamond Resorts International®, with its network of more than 300 vacation destinations located in 33 countries throughout the continental United States, Hawaii, Canada, Mexico, the Caribbean, South America, Central America, Europe, Asia, Australia and Africa, provides guests with choices and flexibility as they design their dream vacation, whether they're traveling an hour away or around the world. Our hassle-free, relaxing vacations give guests a truly memorable experience every time, for a lifetime.
Diamond Resorts International® manages vacation ownership resorts and sells vacation ownership points that provide members and owners with Vacations of a Lifetime™ through 92 managed resorts, 210 affiliated properties and four cruise itineraries. To learn more, visit DiamondResorts.com.
# # #