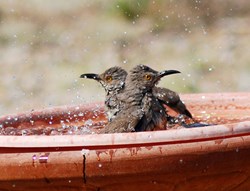 (PRWEB) February 14, 2014
A frolicking duo of curved bill thrashers and a colorful tropical warbler are the winners in the USDA Cutest Bird Photo Contest for the month of December. Bob O'Dean, formerly of Santa Fe, NM, and Tony Castro of Oak Park, IL took the prizes in each of two categories in the Biosecurity For Birds competition.
O'Dean's photo of "Splish and Splash" enjoying his front yard bird bath won in the category of Cutest Bird family. "This little couple would regularly visit the bird bath and my wife and I enjoyed watching them have fun on a hot day," O'Dean says.
Bob and Deborah O'Dean recently retired, sold their Santa Fe home and now travel the country in a luxurious RV, indulging their bird watching and photography hobbies. "We used to wait for the birds to come to us, now we go out and find them," says O'Dean. "We are enjoying the adventure."
Tony Castro and his wife Jetta are also retired and pursuing their photography and bird watching hobbies. Castro's photo of a collared redstart from the warbler family was taken in Costa Rica. "They are friendly birds and this one allowed me to come right up to him," he says. His photo won in the category of Cutest Bird.
Although he and his wife visit many parts of the world to see different species – they recently travelled to the Amazon – "birders can view fascinating birds in their back yard, in the city dump, or the local park," he notes.
Castro learned about the contest by reviewing a list of bird photo competitions at the Audubon Society website – a bird watcher's favorite. While he noticed the Biosecurity for Birds site has an emphasis on backyard poultry owners, he said, "All bird lovers have a responsibility to keep the birds and their environment healthy."
The four month-long Cutest Bird Photo Contest began in December. At the end of each month, the winning photos are posted on the Biosecurity For Birds website. The winners will be considered for inclusion on the 2014 Biosecurity For Birds Calendar. For an entry form, contest rules and more information visit https://web01.aphis.usda.gov/biobird_contest.nsf/contest_entry?OpenForm.
The Biosecurity For Birds program, begun in 2004, is designed to educate backyard poultry owners and bird enthusiasts about highly contagious poultry diseases and other threats to birds. The program helps inform bird lovers how to prevent disease and tells them what to do if they suspect their birds are infected.
Media representatives may contact Joelle Hayden at joelle.r.hayden(at)aphis(dot)usda.gov (301) 851-4040 or Pam Goldstein at pgoldstein(at)diversitymc(dot)com 973-377-0300, Ext. 14.