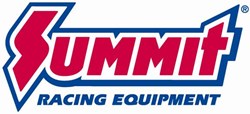 Tallmadge, OH (PRWEB) February 14, 2014
Sparco is the world's largest supplier of safety gear. You'll find Sparco protecting Formula 1, NASCAR, World Rally, and other big-time racing teams—and now Summit Racing offers that same combination of world-class safety and Italian design for sportsman-class racers and street guys as well.
Racing Suits
Every Sparco race suit is hand-sewn by people who are passionate about safety:
•  Jade Top and Jade 2 Driving Suits are ideal for budget-minded racers. The one-piece suits feature three-layer construction and are manufactured from soft and durable FPF fabric that surpasses SFI 3.2A/5 standards
• Pro Cup X Driving Suits are one-piece, two-layer suits with box quilted Nomex® III for superior fire protection and breathability. These lightweight suits are SFI 3.2A/5 and FIA 2000-approved and feature 360 degree shoulder gussets for flexibility, boot cuff pant legs, front pockets, and front belt

Single Layer Driving Suits have the same treated FPF cotton and SFI 3.2A/5 approval Sparco's Jade suits do, offering high-flame protection and durability for pit crews, mechanics, technicians, and race officials
Seats
Summit Racing offers eight different styles of Sparco seats ranging from street to full-bore competition including:

Evo and Evo II Competition Seats feature an ultra-light fiberglass composite shell and provide excellent ergonomics. They were designed and developed with extensive input from some of the most prestigious DTM and ITC championship drivers around. The Evo II is a larger version of the Evo—it's taller and wider to fit larger drivers. Both seats are Hans device-compatible and are FIA approved.
• Pro 2000 Competition Seats are Sparco's most popular seats. They feature a lightweight fiberglass composite shell wrapped in a fire retardant fabric, and are designed to cradle the driver's body. Non-slip fabric on the shoulder and cushion areas plus two lumbar support pads provide improved cockpit comfort
• R100 Street Seats are probably the most comfortable street performance seats on the market. Their ergonomic design cradles and protects the driver against lateral G-forces. Redesigned bolsters offer greater support, and a new padding configuration improves comfort. The R100 street seats can be reclined using a double adjuster lever and are available in single or two-tone fabric to match your car's interior.
Driving Shoes
Sparco Race Driving Shoes feature a wide toe box and an extra-cushioned sole, with an additional comfort cell on the ball of the foot to help reduce shock and vibration. The boot-cut shoes meet SFI 3.3/5 specifications and have a suede outer shell and Velcro® closure.
Summit Racing carries tons of other Sparco products including helmets, driving gloves, jackets, and pants, fire-retardant underwear and socks, neck braces, steering wheels, and casual apparel. Summit Racing also offers Molecule Labs fabric cleaners designed to clean and maintain race apparel, including those made with Nomex fabric.
See All Sparco Products at Summit Racing
See Molecule Labs Products at Summit Racing
Summit Racing Equipment
http://www.SummitRacing.com
1-800-230-3030